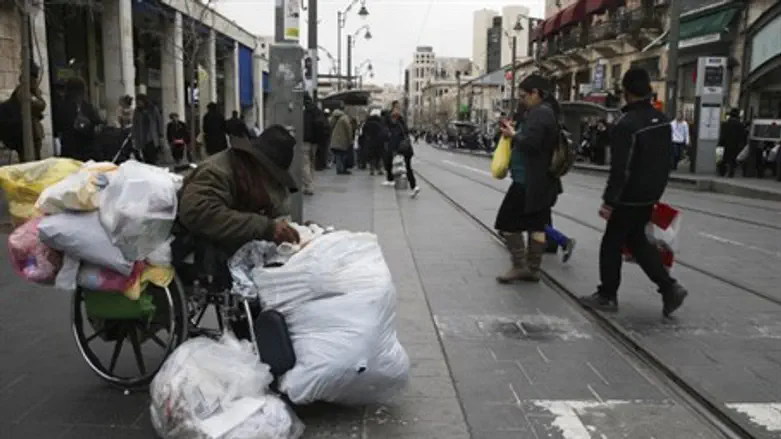 A poor man with his bags, Jerusalem (file)
Flash90
According to the recent OECD report regarding income inequality and the gaps between the richer and the poorer segments of society, Israel is the country with the highest percentage of people living below the poverty line in the western world.
With over 21 percent of the population living below the poverty line, Israel is above Mexico, Turkey and Chile, and even the United States, and has an increase of more than 7 percent since the 1990's. 
According to the report, "Income inequality is rising. A quarter of a century ago, the average disposable income of the richest 10% in OECD countries was around seven times higher than that of the poorest 10%; today, it's around 9½ times higher." In Israel specifically the numbers are quite staggering, and it is ranked third in the world in having the largest income inequality gap, behind Mexico and the United States.
Another uncomplimentary field in which Israel is ranked high on the report, is the inequality in wages between men and women. Men in Israel earn on average 22 percent more than women do. This percentile ranks Israel fourth in the world in this unflattering category behind South Korea, Estonia and Japan. The average in most countries is approximately 15 percent.
The report suggests, that by getting more people into the workforce, restructuring education policies and systems, preparing and educating workers for change, supporting temporary as well as part time positions, and with the proper use of taxation and transfers government policy can help turn the tide of economic inequality on all fronts.