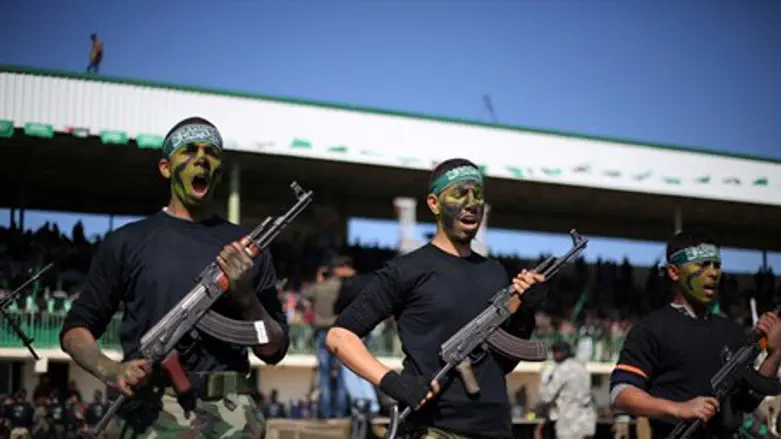 Palestinian youths attend Hamas training camp in Gaza
Abed Rahim Khatib/Flash 90
The Jerusalem District Attorney has submitted an indictment against Mohammed Abu-Taya, a 20-year-old resident of the eastern Jerusalem neighborhood of Shiloach (Silwan in Arabic) located adjacent to the Old City, for apparent membership in the Hamas terrorist group.
The indictment charged Abu-Taya with making contact with a foreign agent, and laid out evidence showing a high likelihood that he had joined Hamas.
Abu-Taya holds residency in the state of Israel but not citizenship. According to the charges, while studying in Al-Yarmuk University in Jordan in 2013, Abu-Taya made the acquaintance of a Hamas terrorist, and they were in close contact through meetings and Facebook.
Last May the Hamas terrorist proposed that Abu-Taya join the Islamist terrorist organization, offering him to either become a "martyr" and conduct a suicide mission, or alternatively to carry out a different kind of attack.
Connections between the two continued for several more months, during which Abu-Taya was offered to undergo military training and practice using a weapon.
It was made clear to him that after the training he would join a terror cell in Jerusalem under which framework he would be asked to pass along sensitive security information, smuggle weapons and gather intelligence.
From the details of the case enumerated in the indictment, Abu-Taya knowingly was in contact with a Hamas terrorist, and there is a high reason to suspect he joined the group or became a delegate of it, with no feasible alibi to negate the serious suspicions.
The indictment was submitted at the conclusion of the general security services and police investigation, and requests that Abu-Taya be held in custody until the end of the legal proceedings against him.
In recent months Jerusalem has seen an on-going wave of terrorism which showed a steep uptick last summer, roughly coinciding with the murder of three Israeli teens by Hamas terrorists in June and leading into Operation Protective Edge. Several high profile attacks have been conducted in the capital by Hamas terrorists, including car attacks by Hamas operatives in Jerusalem.