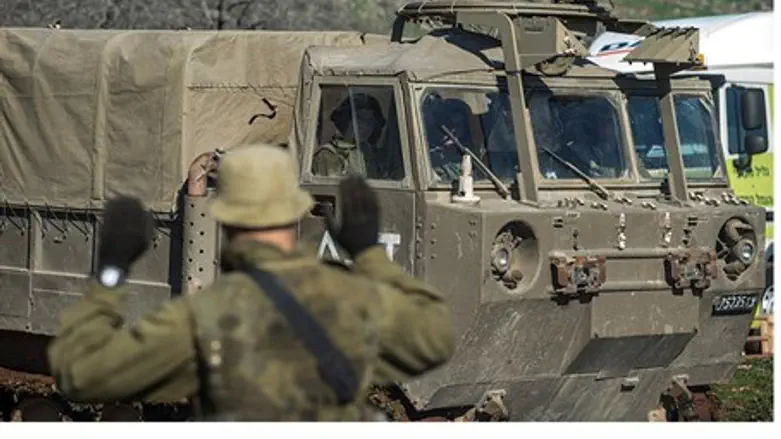 IDF forces seen reinforcing presence in the Golan Heights
Flash 90
Over 1,000 Hezbollah terrorists are fighting alongside Syrian and Iranian forces to wrest the Syrian side of the Golan Heights from rebels fighting the army of Syrian President Bashar al-Assad. The Hezbollah terrorists are being deployed to keep the lines of supply open for Syrian army troops, and ensure that rebel forces do not cut them off.
The Hezbollah terrorists were deployed in force last week, and scored some quick victories, taking back numerous villages, reports said. However, at least 25 Hezbollah terrorists and Syrian troops were killed in those battles, with 49 of the rebel forces – mostly from the Al Qaeda-affiliated Jabhat al-Nusrah (Al-Nusrah Front) group – killed as well.
Syrian human rights group Al-Merced said that Assad had about 5,000 troops in southern Syria, stationed on or adjacent to the Golan, and that they were being assisted by 1,200 Hezbollah terrorists and an unknown number of Iranian soldiers. In addition, there were other Shi'ite groups from Afghanistan and Iraq helping as well.
It's not known if Jabhat al-Nusrah is currently receiving help from fellow Sunni Islamist group ISIS. In the past, the two groups have disagreed on numerous issues, although recent reports from Lebanon say that Sunni fighters made up of both groups were preparing to attack villages in Lebanon in revenge for the Hezbollah participation.
Meanwhile, members of the Free Syrian Army, which is not affiliated with the Islamists but is fighting Assad, said that it had received information about Hezbollah and Iranian activities in Syria from an Iranian who had been taken captive by Jabhat Al-Nusrah. According to the information, Hezbollah terrorists are establishing cells in Quneitra and Dara'a – both near the border with Israel – to map the movements of their Sunni foes.
An airstrike in January killed a top Hezbollah commander, Jihad Mughniyeh, and six others, including an Iranian general. Israel said that they were preparing a Hezbollah infrastructure for attacking it.