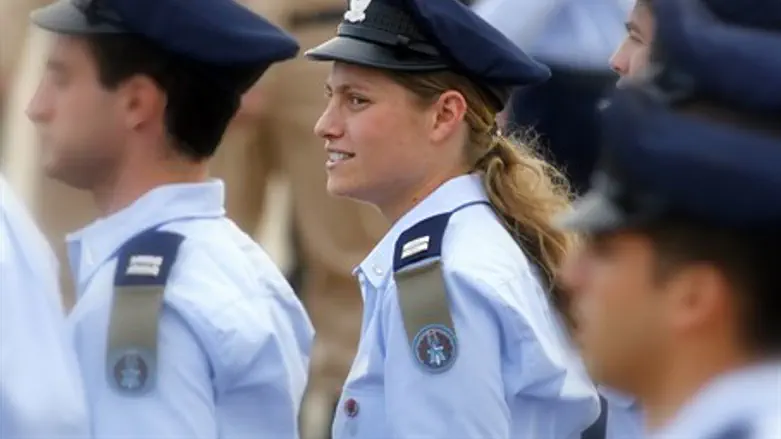 Tamar Ariel z''l
Flash 90
Hundreds took part on Tuesday afternoon in the funeral of Lt. Tamar Ariel z"l, Israel's first religious female IAF navigator who was tragically killed last week in a lethal Nepalese avalanche.
The 25-year-old's body arrived in Israel on Monday night along with that of Agam Luria z''l (23), who was likewise killed in the disaster that claimed the lives of at least four Israelis including Michal Cherkesky z''l and Nadav Shoham z''l.
The crowd coming to pay their final respects to Ariel gathered in front of the central synagogue at her hometown moshav Masuot Yitzhak, located near Ashkelon, to accompany her to her resting place in the local cemetery.
Ariel, who was the daughter of a longtime moshav resident and an immigrant from Puerto Rico who made Aliyah out of Zionist ideals, was raised in religious settings her entire life. 
The story of her final hours was related by Eitan Idan, a survivor of the fatal avalanche on Nepal's Thorong La mountain pass who spoke on Monday to Galei Yisrael radio.
Idan was with Ariel on the hike, during which she was wounded in the harsh conditions. He and two other friends, Shoham and another hiker named Shani were tasked with helping her back down the mountain during the storm - only Idan survived.
"It was really difficult, and she fought, the entire time, to continue walking - much more than any other person would have," Idan said. "It just showed me how strong she was."
However, her strength eventually reached its limit and she fell into the snow. None of the others had the energy left to pick her up and continue, forcing them to leave her rather than stay and die together.
After half an hour, Idan said he also encouraged Nadav and Shani to leave him in the drift as well, because he had no power to keep walking. Idan somehow survived the night, and when rescue crews found him in the morning, he thought everyone else had too - but the crews told him that Nadav had frozen to death.
The death toll in the avalanche has climbed steadily since hikers were caught off-guard by the sudden blizzard in the Himalayan Mountains last week. At least 40 people have been killed in total, making it the worst hiking disaster in Nepal's history.
Scores more were left injured - some severely - and the number of fatalities is expected to rise further, as recovery efforts make slow progress hindered by the extreme conditions.
The Thorong La pass is on a route encircling Mount Annapurna, which at 8,091 meters (26,545 feet) is the world's tenth highest mountain. It is remotely located around 100 miles northwest of the capital city of Katmandu.