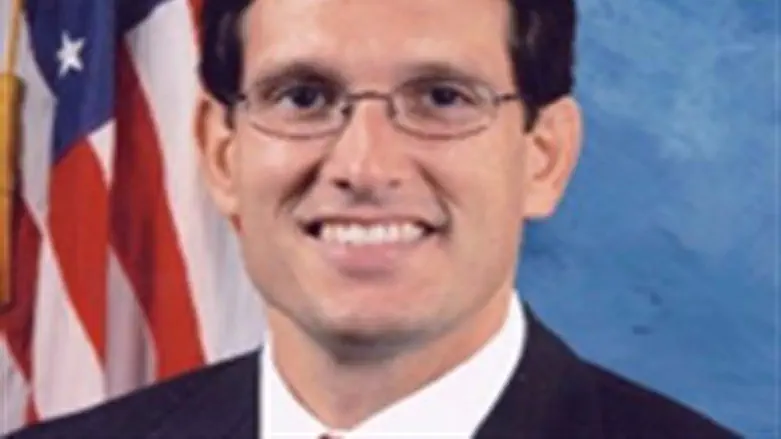 Republican Rep. Eric Cantor
Israel news photo: Eric Cantor
House Minority Leader Nancy Pelosi's recent comments that Jewish voters are "being exploited" by Republican leaders for political gain drew sharp criticism Sunday from House Majority Leader Eric Cantor, who said the remarks were "patronizing" and "insulting."
Pelosi (D-Calif.) suggested that Republican leaders are focusing on President Obama's feeble stance on Israel as a means of diverting public attention from their tax-cutting agenda.
Pelosi made the comment when asked during a weekend interview with Bloomberg TV whether she thought Obama would win the Jewish vote, which historically goes to Democrat candidates.
"I think that he will, because the fact is when the facts get out," she said, "you know, as many of the Republicans are using Israel as an excuse."
"It is both patronizing and deeply insulting for Nancy Pelosi to suggest any Jew is 'exploited' for their political beliefs or that support for Israel is somehow an 'excuse' for anything," Cantor (R-Va.) said in a statement.
During the TV interview, Pelosi agreed with the interviewer that Republican Jewish supporters are very politically active and that Jewish voters are intelligent enough to understand the situation.
"Well, that's how they're being exploited," she said. "And they're smart people. They follow these issues. But they have to know the facts. And the fact is that President Obama has been the strongest person in terms of sanctions on Iran, which is important to Israel."
Pelosi also is facing criticism that she implied Obama as president has been to Israel "over and over again."
President Obama has not been to Israel since taking office. He did travel to the country during his 2008 presidential campaign and reportedly went twice as a senator.