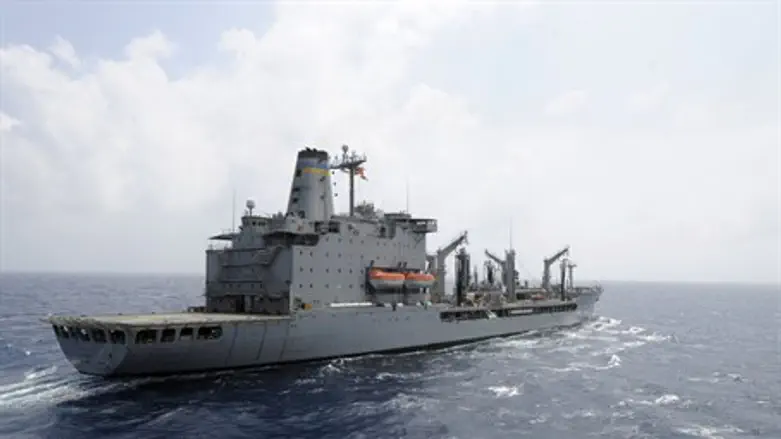 U.S. Navy ship
Reuters
In a move to bolster military strength against Iran, 20 nations will stage an anti-mining exercise in Mideast waterways, the Associated Press (AP) reported.
Defense Department press Secretary George Little said the large minesweeping exercise, set to take place September 16-27, is a defensive drill and is "not ... aimed to deliver a message to Iran."
The upcoming exercise will focus on "a hypothetical threat from an extremist organization to mine the international strategic waterways of the Middle East, including the Red Sea, the Gulf of Aden, the Gulf of Oman, and the Persian Gulf, although exercise activities will not extend into the Strait of Hormuz," U.S. Central Command said in a statement.
"This is a defensive exercise aimed at preserving freedom of navigation in the international waterways of the Middle East and aimed at promoting regional stability," Little told Pentagon reporters on Tuesday.
Word of the exercise follows Monday's announcement that a second U.S. aircraft carrier will be sent to the region in September, several months earlier than planned, in order to ensure there will be two carriers in the region through early next year, AP reported.
The Pentagon also announced that it is building a missile-defense radar station at a secret site in Qatar and organizing its largest minesweeping exercises in the Persian Gulf.
The moves are intended to address Tehran's arsenal of ballistic missiles and to counter its threat to shut down the Strait of Hormuz, the route for one-fifth of the world's oil.
Commander for the region, Gen. James Mattis, said that the exercise will practice mine countermeasures in multiple waterways and will demonstrate "the international community's ability to work together to ensure free and secure trade."
"Of the approximately 40 bilateral and multilateral exercises we'll conduct this year, this exercise also represents the extensive cooperation we enjoy with our international partners -- both in and outside the region -- with mutual economic and security interest," Mattis said.
Officials declined to name the other nations participating, saying it should be left up to the countries to identify themselves.