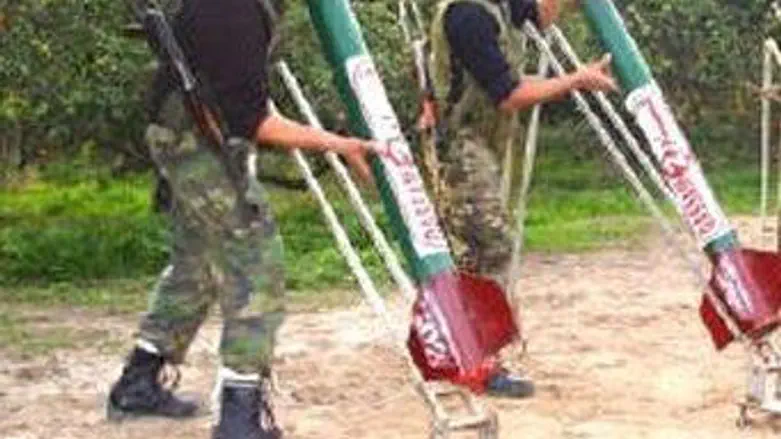 Kassam
Israel news photo: Flash 90
Canada's CBC television issued an on-air apology Wednesday, a day after it misled its viewers by telling them that the recent Gazan rocket attacks on Israel were the first such attacks in a year's time.
In fact, 405 rockets have been fired at Israel from Gaza in the last 12 months (according to the Elder of Zion website), and 130 have been fired over the past month – most of them this week.
On Tuesday, CBC News Anchor Reshmi Nair erroneously stated: "The United Nations is condemning a recent surge of rocket attacks on Israel and it is urging Israel to show restraint in its response. There were funerals today for two Palestinians killed in an Israeli airstrike. Israel claims they were about to launch a rocket over the border from Gaza. Hamas of Gaza denies that, but retaliatory rocket attacks were launched from Gaza after the Israeli strike. They were the first rockets fired from Gaza in more than a year after an unofficial ceasefire, and most of the recent rocket attacks have been launched by militants fired from Egyptian territory in the Sinai desert."
Honest Reporting Canada went into action and contacted the editors at CBC. Contrary to the statement on CBC, they noted, "the Israel Defense Forces claim that in '2012 alone, over 270 rockets fired from the Gaza Strip hit Israel' and 'In 2011 alone, 627 rockets from Gaza hit Israeli towns.'"
Within hours after receiving Honest Reporting's complaint, CBC News commissioned the following on-air correction: "In a report yesterday on the latest round of rocket attacks in Israel, it was mistakenly reported that they were the first attacks launched from Gaza in a year, that's not true, in fact there have been other rocket attacks from Gaza in the past year and as of midday at least 65 rockets have been launched in Israel in the last three days, we regret that error."
Honest Reporting Canada notes, however, that the correction "was inadequate as it only made reference to 'other rocket attacks' and thereby failed to indicate that Israel has been on the receiving end of hundreds of rockets in the past year alone from Gaza."
"This was a significant omission on the CBC's part," Honest Reporting explained, "especially as the crux of this issue centered around the number of rockets that have been fired at Israel from Gaza in the past year. Instead of providing the most precise, accurate, and relevant information for the benefit of CBC's viewing audience, CBC journalists produced a vague corrective notice bereft of important information. Notwithstanding, we thank CBC News for promptly addressing this matter and for endeavoring to set the record straight with this correction."