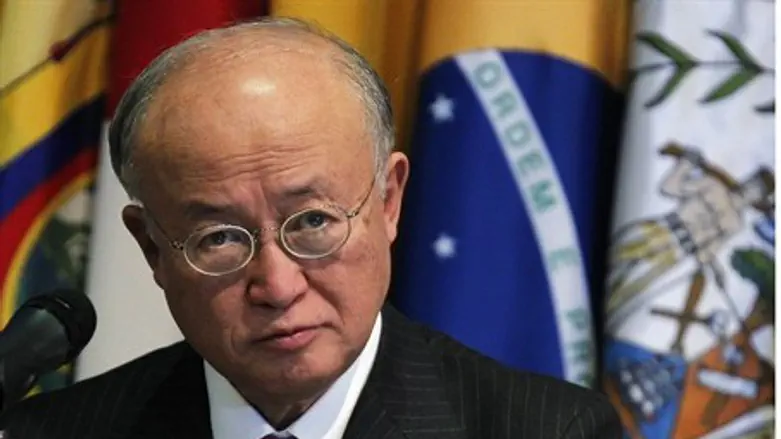 IAEA Director General Yukiya Amano
Reuters
The International Atomic Energy Association on Thursday directly accused Iran of refusing to come clear about its nuclear program amid reports of a bid by Tehran to destroy evidence of wrong-doing.
"Iran is not telling us everything. That is my impression. We are asking Iran to engage with us proactively, and Iran has a case to answer," Yukiya Amano, director general of the International Atomic Energy Agency, said.
Amano told CNN that Iran has declared a number of nuclear facilities to the IAEA, but refuses to declare others and open them for inspection.
"For these facilities and activities, I can tell that they are in peaceful purpose," Amano said. "But there are also, there may be other facilities which are not declared, and we have the indication or information that Iran has engaged in activities relevant to the development of nuclear explosive devices."
Also Wednesday, a Western diplomat here said that the five permanent members of the U.N. Security Council, plus Germany –the so-called P5-plus-1 – have agreed on a joint statement on Iran, which will be delivered Thursday to the IAEA.
"The statement underlines our concerns about Iran's nuclear activities, including its uranium enrichment activities at Natanz and Fordow," the diplomat said. "It calls on the director general of the IAEA to report back on Iran's progress in fulfilling its obligations."
The renewed press by Amano and western diplomats comes as new satellite images of the Parchin military complex appear to show trucks and earthmoving vehicles at the site ahead of a proposed new round of nuclear talks.
The diplomats, all nuclear experts accredited to the International Atomic Energy Agency, told the Associated Press that the images appear to reveal an attempted cleanup of radioactive materials that may have been left by tests of a nuclear-weapon trigger.
In explaining such a device, the agency's November report said that "if placed in the center of a nuclear core of an implosion-type nuclear device and compressed, [it] could produce a burst of neutrons suitable for initiating a fission chain reaction."
The IAEA has been wrangling with Iran over access to the Parchin site for months. Earlier this week Iran announced it would allow IAEA inspectors access to Parchin as a "gesture of goodwill," but insisted terms for the visit would have to be negotiated - leading to charges Tehran is stalling.
Iran previously razed the Lavizan Shian complex in northern Iran before allowing IAEA inspectors to visit the suspected repository of military procured equipment that could be used in a nuclear-weapons program.
Tehran claimed the site had been demolished to make way for a park, but inspectors who subsequently visited the site found traces of uranium enriched to or near the level used in making the core of nuclear warheads.