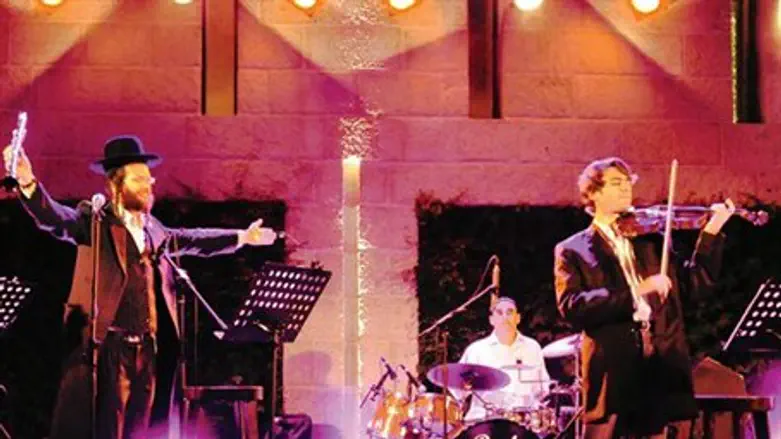 Vishnitz Nigun
Album Cover
Anyone who is familiar with the world music genre knows that some of the most beautiful music comes from the Balkans in southeastern Europe.
Balkan music reflects the unique musical culture of the gypsies, and when one hears a gypsy violin playing, one cannot help but be affected.
As it turns out, the Hassidim in Romania were also moved by Balkan music. The Vizhnitzer Rebbe Chaim Meir Hager would go out to the road, listen to the gypsy singers and then command his followers to sing the same tunes when setting his table.
Two years ago Naor Carmi, a ba'al teshuva through Chabad who has played with some of the best singers in Israel, took upon himself to find out exactly how much gypsy music had affected the Vizhnitz Hassidim. During the course of his research he found out that over 200 Hassidic melodies had been drawn from gypsy culture, directly and indirectly.
Carmi then decided to start a unique project: to produce some of these tunes in a way that takes them back to their original gypsy sound. In order to do this he found an authentic gypsy violin, brought a musical Jewish family from the Balkans, invited renowned Hasidic musician Chilik Frank, and created a show which combines the purity of Vizhnitz with the purity of the gypsies.
The show quickly sold out and Carmi had no choice but to continue and hold more shows due to the demand.
For those who missed any of the shows, one of them was recorded last year and now, after much studio work, it has been released as an album entitled "Playing Vizhnitz."
The alternating extremes of joy and sorrow, the authenticity and professionalism of the artists and the Jewish Balkan family which takes part make this album rare in its intensity.