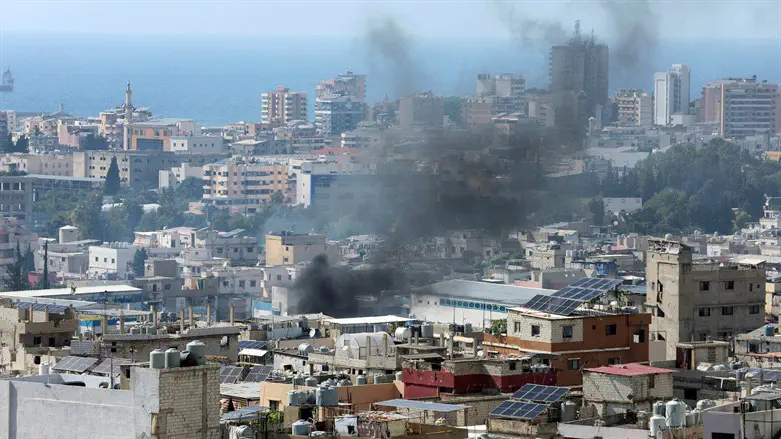 Smoke rises from Ain Al-Hilweh refugee camp in Sidon, Lebanon
REUTERS/Aziz Taher/File Photo
Palestinian Arab security forces deployed on Friday in a school complex in Lebanon's largest "Palestinian refugee camp", replacing gunmen who had occupied it since fighting broke out in late July, leaving more than 30 people dead, The Associated Press reports.
The deployment raises hopes that a nearly two-week ceasefire can hold at the Ain Al-Hilweh camp, located near the southern port city of Sidon, and that school buildings can be restored.
A ceasefire agreement was reached two weeks ago between members of Palestinian Authority (PA) chairman Mahmoud Abbas' Fatah faction and two Islamist factions, after the latest wave of violence in the camp claimed about 20 lives and injured more than 150. Previous ceasefires had collapsed within hours.
The complex includes eight schools run by the United Nations Relief and Works Agency for Palestine Refugees (UNRWA), which announced this week it would postpone the academic year for over 11,000 students due to the presence of the gunmen.
On Friday afternoon, a security force of 55 armed fighters who had been considered neutral in the recent clashes — from factions including Hamas, the Democratic Front for the Liberation of Palestine and Asbat al-Ansar — took over the badly damaged compound, according to AP.
The fighting in the camp broke out after Fatah accused the Islamic groups of gunning down a senior Fatah military official, Abu Ashraf al-Armoushi.
Ain al-Hilweh is home to more than 54,000 registered refugees and thousands of Palestinian Arabs who joined them in recent years from neighboring Syria, fleeing the civil war there.
Lebanese residents who are registered as "Palestinian refugees" and their descendants who were born in that country reside in residential neighborhoods known as "refugee camps", have limited work options and are refused citizenship.
Lebanon refuses to naturalize the "Palestinian refugees" and has stressed the need to work for their return to their country of origin, which Palestinian Arabs claim is Israel.
(Israel National News' North American desk is keeping you updated until the start of Sukkot in New York. The time posted automatically on all Israel National News articles, however, is Israeli time.)