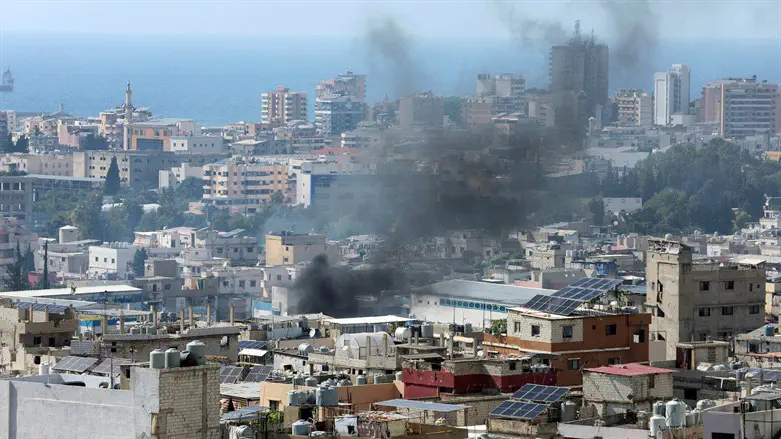 Smoke rises from Ain Al-Hilweh refugee camp in Sidon, Lebanon
REUTERS/Aziz Taher/File Photo
A new ceasefire in Lebanon's largest "Palestinian refugee camp" was agreed upon on Thursday after more than a week of deadly violence, two Palestinian Arab officials told AFP.
At least 17 people have been killed and around 100 wounded in the fighting in Ain Al-Hilweh refugee camp, on the outskirts of the port city of Sidon.
The clashes have pitted fighters of PA chairman Mahmoud Abbas' Fatah movement, which controls the camp, against hardline Islamist militants.
"The two parties agreed to implement a ceasefire... starting today at 6:00 pm (1500 GMT)," camp official Fuad Othman told AFP by telephone. Previous ceasefires had collapsed within hours.
Ain al-Hilweh is home to more than 54,000 registered refugees and thousands of Palestinian Arabs who joined them in recent years from neighboring Syria, fleeing the civil war there.
Lebanese residents who are registered as "Palestinian refugees" and their descendants who were born in that country reside in residential neighborhoods known as "refugee camps", have limited work options and are refused citizenship.
Lebanon refuses to naturalize the "Palestinian refugees" and has stressed the need to work for their return to their country of origin, which Palestinian Arabs claim is Israel.