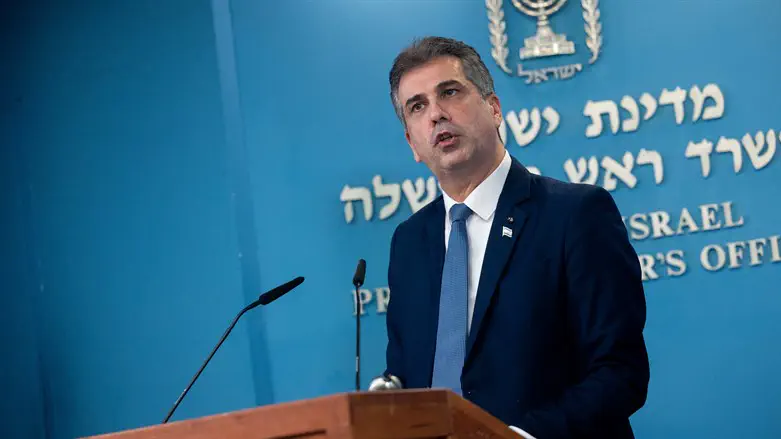 Eli Cohen
Yonatan Sindel/Flash 90
Foreign Minister Eli Cohen made clear on Friday that "Israel will not allow Iran to obtain nuclear weapons", amid reports that the US and Iran could be on the verge of signing a new nuclear deal.
Speaking to Channel 13 News, Cohen was asked about reports of renewed talks between the US and Iran and replied, "An agreement signed by Iran is not worth the paper on which it is signed. We said clearly - it is time to make difficult diplomatic decisions against the Iranian nuclear program - otherwise war could break out."
"The issue of Iran is a problem of the entire world, [and] the Americans need to be more determined. They understand the significance, there is a commitment from [President] Biden that Iran will not achieve nuclear weapons," added Cohen, who noted that many Arab countries share the fear of an Iranian nuclear weapon and that "all Arab and Muslim countries fear this possibility much more than Israel."
The Foreign Minister's comments come amid concerns in Israel about a possible push by the Biden administration for a "freeze for freeze" interim agreement with Iran.
Axios reported last month that the Biden administration discussed with its European and Israeli partners a possible proposal for an interim agreement with Iran that would include some sanctions relief in exchange for Tehran freezing parts of its nuclear program.
On Thursday, US President Joe Biden's National Security Adviser, Jake Sullivan, hosted Israeli National Security Advisor Tzachi Hanegbi and Minister of Strategic Affairs Ron Dermer at the White House to discuss, among other things, "enhanced coordination to prevent Iran from acquiring a nuclear weapon, and ways to counter threats from Iran and its proxies."
Cohen also discussed in Friday's interview with Channel 13 News the prospects of a normalization agreement between Israel and Saudi Arabia.
"Saudi Arabia and Israel have a common interest in strengthening regional stability, fighting the Iranian nuclear threat, and cooperating in the economic and technological fields. Saudi Arabia's fear of a nuclear Iran is much greater than Israel's because Israel can attack with force, if necessary," said Cohen.
"My estimation is that an agreement with Saudi Arabia is not a question of 'if' but of 'when.' The Saudis see our relations with the United Arab Emirates," he added.
(Israel National News' North American desk is keeping you updated until the start of Shabbat in New York. The time posted automatically on all Israel National News articles, however, is Israeli time.)