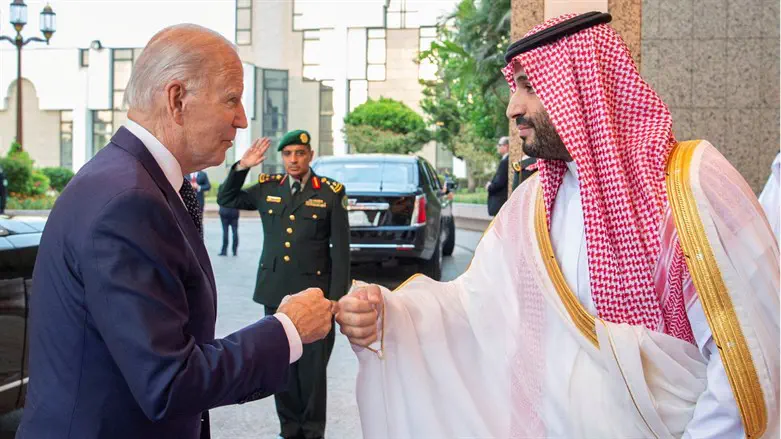 Saudi Crown Prince fist bumps Biden upon his arrival in Jeddah
Bandar Algaloud/Courtesy of Saudi Royal Court/Handout via REUTERS
The White House wants to make a diplomatic push for a Saudi-Israeli peace deal in the next six to seven months before the presidential election campaign consumes President Joe Biden's agenda, two US officials with knowledge of the issue told Axios' Barak Ravid on Wednesday.
Any normalization agreement between Saudi Arabia and Israel brokered by the US will likely include an upgrade in US-Saudi relations and a package of tangible deliverables from the US government.
Such a deal could be unpopular among Democrats due to the tensions with the Saudis over the murder of Washington Post columnist Jamal Khashoggi, but a deal could be a historic breakthrough in Middle East peace, leading to a domino effect of more Arab and Muslim-majority countries normalizing relations with Israel.
White House national security adviser Jake Sullivan met with Saudi Crown Prince Mohammed Bin Salman, who is known as MBS, last week in Jeddah and, among other issues, discussed the possibility of Saudi-Israeli normalization, the US officials said.
After the meeting, White House Middle East czar Brett McGurk and Biden's senior adviser Amos Hochstein traveled to Jerusalem and briefed Prime Minister Benjamin Netanyahu.
According to the two US officials, Sullivan told MBS the U.S. thinks there is an opportunity to get a Saudi-Israeli deal by the end of the year.
MBS said he doesn't want to take any more incremental steps toward warming relations with Israel, but instead, work toward one big package that will include US deliverables like stronger military cooperation, one US official said.
The Saudi Embassy in Washington did not respond to specific questions related to this story.
A National Security Council spokesperson said the White House "does not comment on the content of private diplomatic discussions."
"The United States is fully committed to strengthening and expanding the Abraham Accords and supporting Israel's integration into the Middle East," the spokesperson added.
"This will be an area of continued emphasis and focus for us over the coming period as we look to achieve a more integrated, more prosperous, and more stable region that serves the interests of our partners and the United States over the long term."
Before his visit to Saudi Arabia, Sullivan spoke at a Washington think tank and said that the US is still working towards a goal of a deal normalizing relations between Israel and Saudi Arabia.
"Ultimately getting to full normalization is a declared national security interest of the United States. We have been clear about that," he said, as quoted by Reuters.
"Now as a sign of my seriousness about how much we're focused on this, and how seriously we are taking this, I am not going to say anything further lest I upset the efforts we are undertaking on this issue," added Sullivan.
Israel has been for years rumored to have behind-the-scenes ties with Saudi Arabia, but the Saudis have vehemently denied those rumors.
Prime Minister Benjamin Netanyahu has made clear that his goal is to achieve a peace agreement with Saudi Arabia that would "effectively end the Arab-Israeli conflict."
However, Saudi officials have repeatedly said that a Palestinian state with eastern Jerusalem as its capital is a prerequisite for Saudi Arabia normalizing ties with Israel.
According to Ravid's report, any deal with Saudi Arabia will likely include a "Palestinian component" that Israel will have to agree to. It is unclear what the Saudis and the US will ask for and how far Netanyahu's government will go to secure a deal.