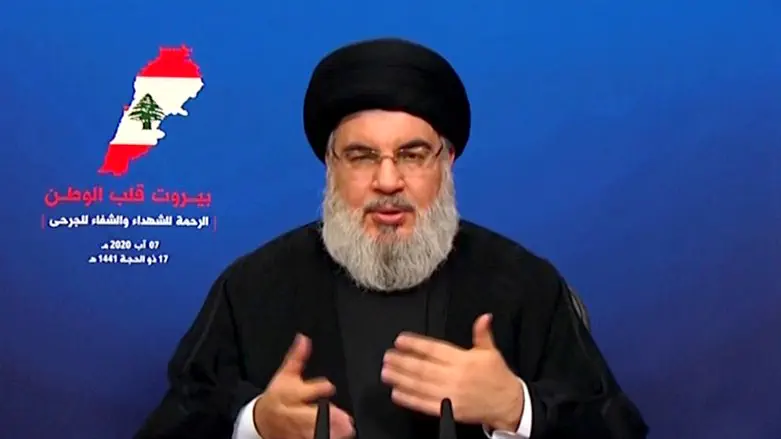 Hassan Nasrallah
Reuters
Hezbollah leader Hassan Nasrallah responded on Thursday to IDF Military Intelligence Directorate commander Aharon Haliva, who said earlier this week that Nasrallah "is close to making a mistake that could lead to a major war."
"You are not the ones threatening a big war - we are the ones threatening you. And any such war will include all of Israel's borders," said Nasrallah, who spoke as part of the "Resistance and Liberation Week" to mark the 23rd anniversary of the IDF's pullout from Lebanon.
"Those who think the battle is over are delusional, because part of our country is still occupied," added the Hezbollah chief.
"The enemy is the one who must be careful not to make a mistake - because the great war will lead to the collapse of the occupation entity to its death," threatened Nasrallah.
He also claimed that "the deterrence of the resistance is increasing, compared to the erosion of Israel as was the case in the last round in Gaza."
"Israel today is not a big country," Nasrallah stated. "After the withdrawal from Lebanon and Gaza, the issue of a greater Israel is over. Israel is hiding behind the fence today. When the world regime changes to a multipolar world, this worries Israel. The decline in America's power and the change in its priorities worry Israel's leaders. There is a severe division in Israel."
The Hezbollah leader is no stranger to threatening Israel, and has used current internal tensions within Israel to claim that the country's end is approaching.
In March, Nasrallah claimed that the controversy in Israel over the government's planned judicial reforms showed that the Jewish State is approaching the end of its existence.
(Israel National News' North American desk is keeping you updated until the start of Shavuot in New York. The time posted automatically on all Israel National News articles, however, is Israeli time.)