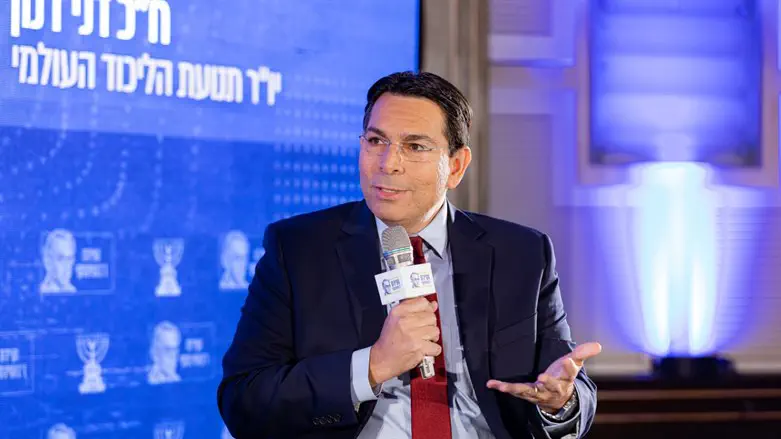 Danny Danon
Chaim Tovito
MK Danny Danon, chairman of World Likud and Israel's former Ambassador to the UN, responded on Tuesday to a Channel 12 News report which said that the Biden administration has demanded that the Israeli government drop the judicial reform from its agenda in exchange for normalization of ties with Saudi Arabia.
"We respect our friends in the US but Israel's policy will be determined by us. Normalizing relations between Israel and Saudi Arabia is a regional interest, but we must not advance our relations in the wake of an ultimatum," said Danon.
Tuesday's report said the Saudis are demanding the resumption of peace talks between Israel and the Palestinian Authority as a condition for normalization with Israel, while the US was the party which raised the demand over the judicial reform in exchange for mediating the normalization talks.
Israel has been for years rumored to have behind-the-scenes ties with Saudi Arabia, but the Saudis have vehemently denied those rumors.
Prime Minister Benjamin Netanyahu has made clear that his goal is to achieve a peace agreement with Saudi Arabia that would "effectively end the Arab-Israeli conflict."
However, Saudi officials have repeatedly said that a Palestinian state with eastern Jerusalem as its capital is a prerequisite for Saudi Arabia normalizing ties with Israel.
Foreign Minister Eli Cohen expressed hope, in an interview with Channel 12 News on Saturday night, that the normalization agreement will be signed in the next six months or a year, with the approval of direct flights to Saudi Arabia being a necessary condition for the move.
A day later, it was reported that Israel has approached airlines in Jordan, Bahrain, and other countries in the region requesting that they operate direct flights to Saudi Arabia from the Ben Gurion Airport or Ramon Airport in southern Israel.
The report said that the Saudis are inclined to approve the move, which would be available only for Muslims who live in Israel and wish to participate in the pilgrimage to Mecca.