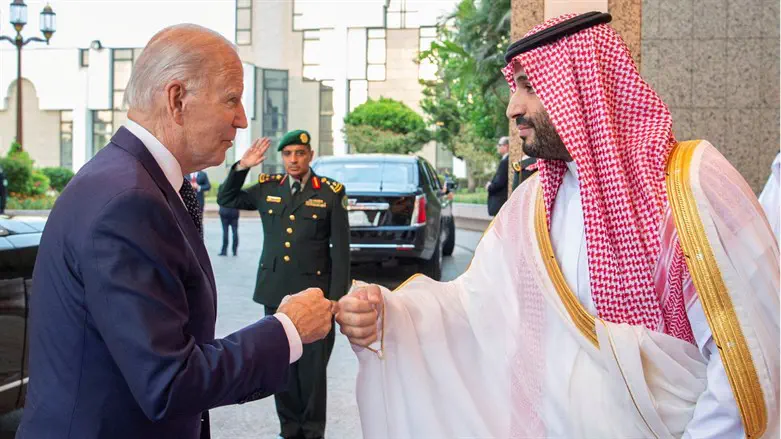 Saudi Crown Prince fist bumps Biden upon his arrival in Jeddah
Bandar Algaloud/Courtesy of Saudi Royal Court/Handout via REUTERS
The Biden Administration has demanded that the Israeli government drop judicial reform from its agenda in exchange for the normalization of the Jewish State's relations with Saudi Arabia, Channel 12 News reported this evening (Tuesday).
According to the report, the Saudis are demanding the resumption of peace talks with the Palestinian Authority, while the US was the party to raise the demand over the judicial reforms in exchange for mediating the normalization talks.
On Sunday, it was reported that Bahrain had been mediating negotiations between Israel and Saudi Arabia on aspects of normalization, such as allowing direct flights between the two countries.
The current talks centered on allowing Israeli Arabs who wish to participate in the Hajj pilgrimage to Mecca to travel directly from Ben Gurion Airport, a move which would not allow non-Muslim citizens of Israel to visit Saudi Arabia.
Foreign Minister Eli Cohen expressed hope, in an interview with Channel 12 News on Saturday night, that as a result of the current talks, a normalization agreement will be signed in the next six months or a year.
Saudi Arabia has several demands of both Israel and the US as part of the negotiations, including the granting of concessions to the Palestinian Authority in Judea and Samaria, including the relinquishment of the IDF's Authority in favor of strengthening the PA security forces. The Saudis are also demanding that Mahmoud Abbas and the members of the Palestinian Authority be given security powers in the Church of the Holy Sepulcher and the Al-Aqsa Mosque, not including the Western Wall, which will remain under Israel's authority, and more.
Prime Minister Benjamin Netanyahu has repeatedly made clear that his goal is to achieve a peace agreement with Saudi Arabia that would "effectively end the Arab-Israeli conflict," following the peace and normalization agreements he reached with the United Arab Emirates, Bahrain, Morocco, and Sudan in 2020.
In March, US President Joe Biden commented on the efforts of the Israeli government to reform the State's judicial system, saying: "Like many strong supporters of Israel, I'm very concerned. I'm concerned that they get this straight. They cannot continue down this road. I've sort of made that clear."
Prior to Biden's comments, Prime Minister Netanyahu agreed to freeze the judicial reform legislation to allow the coalition and opposition to hold negotiations over the issue under the auspices of President Isaac Herzog.