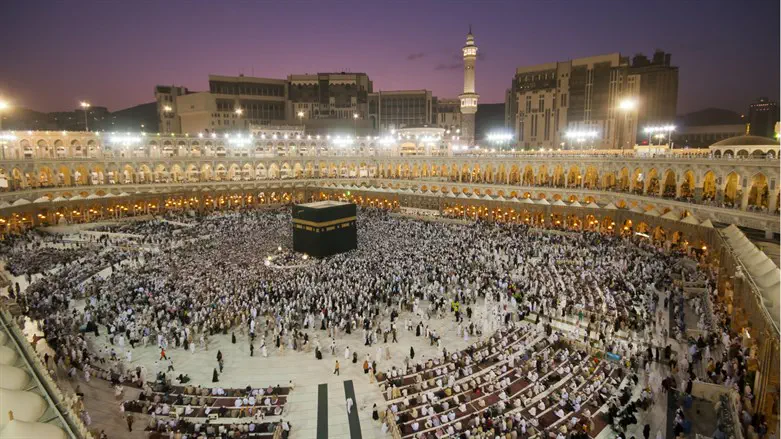 Mecca
iStock
Israel has approached airlines in Jordan, Bahrain, and other countries in the region requesting that they operate direct flights to Saudi Arabia from the Ben Gurion Airport or Ramon Airport in southern Israel.
Channel 12 News reported that the Saudis are inclined to approve the move, which would be available only for Muslims who live in Israel and wish to participate in the pilgrimage to Mecca.
According to estimates, about 4,500 Muslims are expected to depart for Mecca at the end of next month when the Hajj begins. Until now, they had to travel to Jordan and from there to the ports in Jeddah or Medina, and a move to fly from Israel will obviously make it cheaper for them to reach Mecca.
The move may be the first sign that talks on normalization between Israel and Saudi Arabia are getting closer, along with a real breakthrough in relations between the countries.
Foreign Minister Eli Cohen expressed hope, in an interview with Channel 12 News on Saturday night, that the normalization agreement will be signed in the next six months or a year, with the approval of direct flights to Saudi Arabia being a necessary condition for the move.
Israel has been for years rumored to have behind-the-scenes ties with Saudi Arabia, but the Saudis have vehemently denied those rumors.
Prime Minister Benjamin Netanyahu has made clear that his goal is to achieve a peace agreement with Saudi Arabia that would "effectively end the Arab-Israeli conflict."
However, Saudi officials have repeatedly said that a Palestinian state with eastern Jerusalem as its capital is a prerequisite for Saudi Arabia normalizing ties with Israel.
Last week, Axios' Barak Ravid reported that the White House wants to make a diplomatic push for a Saudi-Israeli peace deal in the next six to seven months.