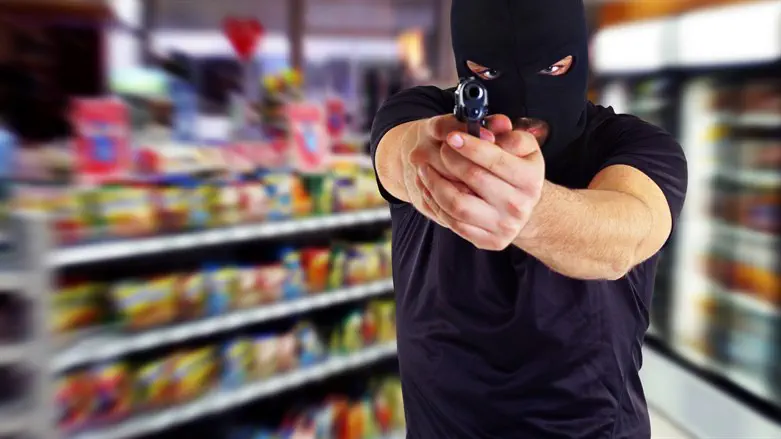 Store robbery (illustrative)
iStock
As police continue to search for two suspects wanted in connection with the May 8 robbery of a Crown Heights, New York kosher pizza restaurant, a community organization is offering a cash reward for information leading to their arrest, according to Hamodia.
On May 8 at approximately 11 p.m., after closing, two men entered Railroad Pizza saying they had guns and demanding that the owner lie on the floor and hand over the contents of his pockets.
The two robbers were caught on video wearing hoods, masks, and gloves. They broke into the store through an open street cellar door, according to the report.
The owner was forced to lie on the ground for 10 minutes until the two men fled with his credit card and cellphone.
The Jewish Future Alliance, a New York–based volunteer group founded by Rabbi Yaacov Behrman that advocates on behalf of the Jewish community, is offering a $5,000 reward for tips leading to the arrest of the suspects.
Advertising the reward, the organization described the perpetrators as "exhibiting sophistication" in their method of hiding their appearance and described the crime as "brazen behavior" that should "shock every New Yorker."
The incident was the second time since it opened in January that the pizzeria has been the burglarized. Just days after opening its doors, a robber broke in and caused significant damage, Collive reported in January.
The man vandalized the premises, including badly damaging the front door, which had to be replaced.
"We were devastated when we discovered the damage caused by the burglar, but we are not going to let this setback discourage us," owner Levi Aronov told the news outlet. "We are determined to continue providing our customers with the best possible experience, and we are excited to continue serving the community of Crown Heights."