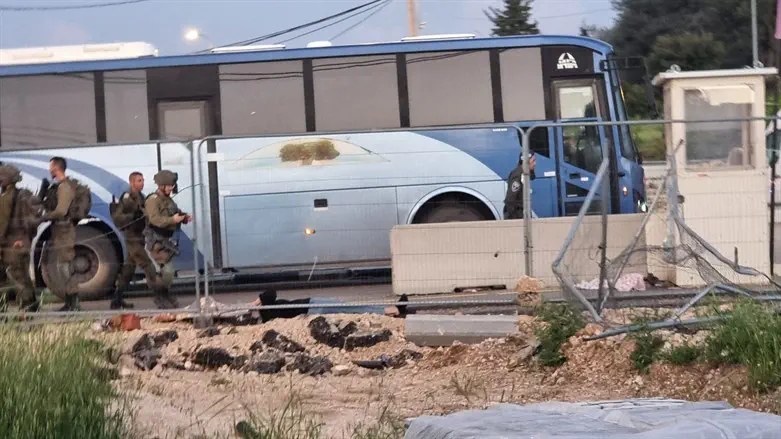 The scene of the attack at the Gush Etzion Junction
Meir Elifor/TPS
The military prosecutor submitted an indictment on Thursday for attempted manslaughter and possession of a knife to the Judea military court against Fatma Shahin, who two weeks ago, on the eve of Holocaust Memorial Day, stabbed a Jew at the Gush Etzion Junction, moderately wounding him.
Attorney Chaim Bleicher, from the Honenu organization, who represents the victim, announced that they will demand severe punishment for the terrorist.
According to the indictment, the terrorist intended to attack a soldier or civilian and to cause their death. To do so, the terrorist entered the market and stole a 29 CM knife with a 19 CM blade.
The indictment also states that the defendant traveled to the Gush Etzion Junction by taxi and that she chose the spot since there are soldiers and Israeli civilians who she can stab and kill. After exiting the taxi, Fatma walked to the bus stop where Israeli civilians were standing. There, she carried out the attack until she was shot by IDF soldiers at the scene.
An Israeli resident of Gush Etzion was wounded in the attack, he was moderately wounded and was transported to Hadassah Ein Kerem Hospital, where he underwent surgery.
Atty. Bleicher stated that "This is a cursed terrorist who tried with all her might to murder a Jew because he is a Jew, and that is part of the Islamic war of terror against our existence in Israel. We will assist the victim and demand severe punishment."