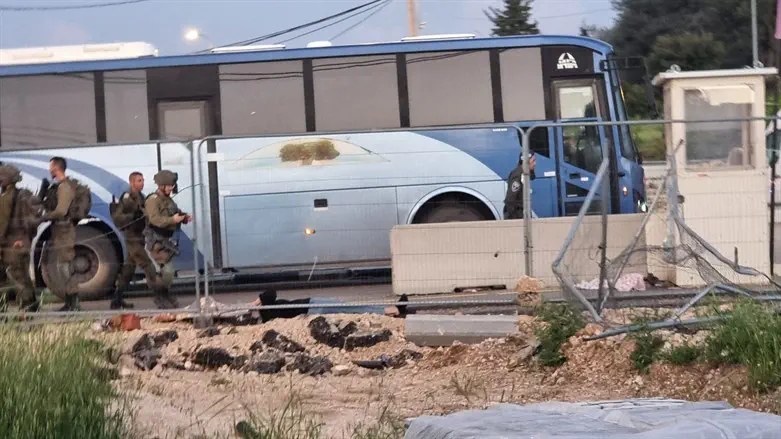 Attack at the Gush Etzion Junction
Meir Alipur/TPS
A man in his 30s was lightly to moderately wounded in a terrorist stabbing attack at the Gush Etzion Junction this evening (Monday).
The female terrorist was neutralized during the attack, the IDF stated.
Magen David Adom medics and paramedics, together with IDF medical forces and United Hatzalah medics, treated the victim at the scene before evacuating him to Hadassah Ein Kerem Medical Center in Jerusalem.
United Hatzalah volunteer EMT Netanel Elmekayes said: "When I arrived at the scene I found a man who had sustained mild stabbing injuries in his abdomen and was conscious. Together with additional first responders, we provided initial treatment, after which he was evacuated to the hospital for further treatment."
The victim suffered a stabbing wound to his upper body. He is fully conscious and in stable condition.
The terrorist was identified as a 33-year-old Arab woman, a mother of one from the Dheisheh refugee camp. She apparently arrived at the intersection in a taxi, walked to the nearby bus stop and stabbed the Israeli citizen.
The Gush Etzion spokesperson said: "This evening at 19:15, one of our residents, 36-year-old Noam Anisfeld, was stabbed while waiting at a bus stop to come home to his wife and three children. "
"Noam was taken to Hadassah Ein Kerem Hospital in moderate condition, and is undergoing surgery under full anesthesia. We pray for his speedy and full recovery.
"It is unacceptable to be in a situation where at the end of a work day, a father coming home to his family is brutally stabbed. We believe that the IDF and the government of Israel will do everything necessary to prevent the recurrence of such incidents at all costs.
"We thank the soldiers from the Shaked Battalion for neutralizing the terrorist. There is no doubt that this attack is the result of the continuous and wild incitement for which the leaders of the Palestinian Authority and the terrorist organizations are responsible, and we demand that the government unwaveringly fight the incitement."
Gush Etzion Mayor, and Chairman of the Yesha Council, Shlomo Ne'eman added: "Even tonight on Yom Ha'shoah, there are those trying to remind us that the Jewish People must protect ourselves, our country, and our authority. The female terrorist tried to harm, and murder, and only thanks to a miracle, along with the bravery of our soldiers in the area, was Noam, who was on his way home to his family, wounded only moderately. We will continue to live here proudly, and continue to grow in Judea and Samaria, and we will build and develop this area. I wish my neighbor Noam from the community of Karmi Tzur a complete recovery."