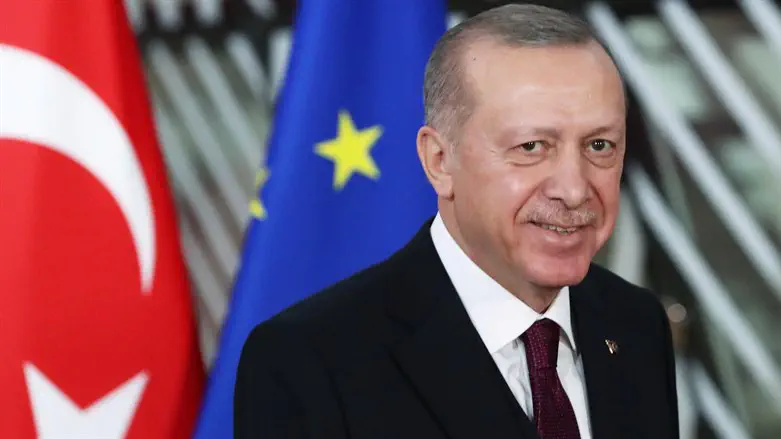 Recep Tayyip Erdogan
Reuters
Turkey's President, Recep Tayyip Erdogan, on Wednesday condemned the Israeli police raid on Jerusalem's Al-Aqsa Mosque, which led to clashes with worshippers, calling such acts in the mosque compound a "red line" for Turkey, Reuters reported.
"I condemn the vile acts against the first qiblah of Muslims in the name of my country and people, and I call for the attacks to be halted as soon as possible," Erdogan was quoted as having said in a speech at a fast-breaking dinner.
"The name of this is the politics of repression, the politics of blood, the politics of provocation. Turkey can never remain silent and unmoved in the face of these attacks," Erdogan charged.
"Putting a hand on Al-Aqsa Mosque and trampling on the sanctity of the Haram al-Sharif is a red line for us."
His comments follow clashes which erupted on Tuesday night, when police forces entered Al-Aqsa Mosque after worshipers barricaded themselves inside and refused to leave. Hundreds were arrested.
The clashes erupted again under similar circumstances on Wednesday night. According to Palestinian Arab reports, at least 11 people were arrested. Footage posted online showed some of the worshipers fleeing the Temple Mount in large numbers.
Erdogan's comments come despite the fact that Israel and Turkey formally announced this past August that they would normalize relations by returning the ambassadors and consuls, after years of tensions.
In December, Israel's Ambassador to Turkey, Irit Lillian, presented her credentials to Erdogan. Last month, the new Turkish Ambassador to Israel, Şakir Özkan Torunlar, presented his credentials to President Isaac Herzog.
After the Israeli election this past November, Erdogan and Prime Minister Benjamin Netanyahu spoke on the phone for 12 minutes.
During the conversation, Erdogan congratulated Netanyahu on his election victory. The two leaders agreed that they will cooperate in starting a new age in Israeli-Turkish relations.
(Israel National News' North American desk is keeping you updated until the start of Passover in New York. The time posted automatically on all Israel National News articles, however, is Israeli time.)