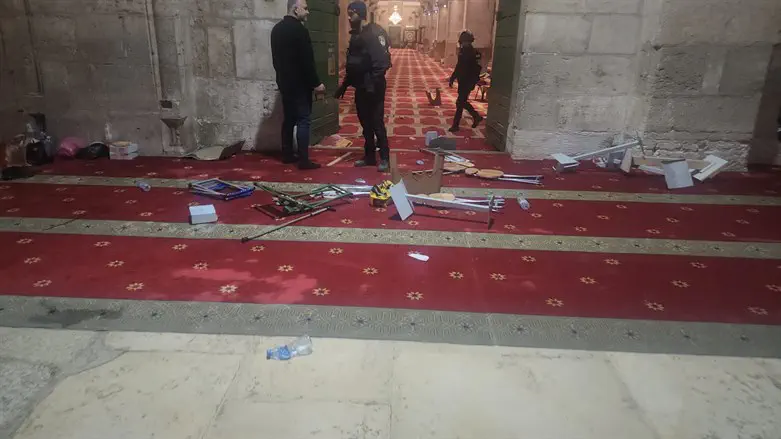 Aftermath of clashes at Al-Aqsa Mosque
Israel Police spokesperson
For the second night in a row, violent clashes broke out on the Temple Mount on Wednesday night, as worshipers barricaded themselves inside Al-Aqsa Mosque and police forces operated to evacuate them.
The worshipers shouted, "Al-Aqsa will be redeemed in spirit and blood".
According to Palestinian Arab reports, at least 11 people were arrested. Footage posted online showed some of the worshipers fleeing the Temple Mount in large numbers.
The Israel Police commented on the clashes with worshipers and said, "Tonight while police officers continued to allow many Muslims to celebrate Ramadan and safely reach the Temple Mount for the evening prayers, dozens of law-breaking juveniles, some of them masked, threw fireworks and stones into the Mosque with the aim of disrupting the order."
"At some point the violent rioters tried again to close the Mosque doors and prevent the worshipers from leaving the Mosque in order to barricade themselves in the place. Police forces prevented the lawbreakers from closing the doors and helped the worshipers leave the Mosque."
"The lawbreakers started shouting incitement, shooting fireworks, and throwing objects at the worshipers and at the police officers. Currently the lawbreakers have been dispersed, the fortification has been avoided and the place is quiet," the Israel Police noted.
"Unfortunately, at a time when many police officers are working to enable freedom of worship in the holy places, there are those who choose to riot and violate public order. Those troublemakers harm first and foremost the Muslim public who come to pray in the Mosque. We will continue to act resolutely against troublemakers and lawbreakers for the sake of public peace and security," concluded the statement.
At the same time, Arabs held demonstrations and marches in places including Umm al-Fahm, Arraba and Haifa.
In Umm al-Fahm, rocks were thrown at Highway 65. A police force was attacked and a policeman fired in the air in response.
Police arrested five minors on suspicion of throwing rocks towards police officers and disrupting order.
Similar clashes erupted on Tuesday night, when police forces entered Al-Aqsa Mosque after worshipers barricaded themselves inside and refused to leave. Hundreds were arrested.
On Wednesday, Prime Minister Benjamin Netanyahu responded to the previous night's riots, noting that the rioters' actions harmed Muslims who merely came to Mosque for Ramadan prayers and not to confront Jewish visitors to the Temple Mount.
"Muslim worshippers in Al-Aqsa Mosque are asserting that the Islamic extremists who barricaded themselves inside the mosque locked them in and prevented other Muslims from going to the Mosque to pray. They barricaded themselves with weaponry, rocks and fireworks," said Netanyahu.
"Israel is committed to maintaining freedom of worship, free access for all faiths and the status quo on the Temple Mount, and will not allow violent extremists to change this," the Prime Minister concluded.
(Israel National News' North American desk is keeping you updated until the start of Passover in New York. The time posted automatically on all Israel National News articles, however, is Israeli time.)