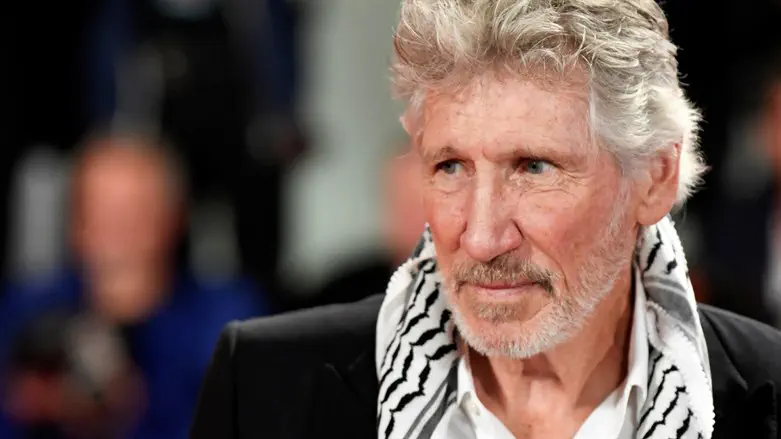 Roger Waters
Reuters
Roger Waters' German tour may not take place as several other cities debate following Frankfurt's lead and cancelling the BDS supporting musician's upcoming concerts over his history of antisemitism and his recent support of Russia.
Follow the lead of Frankfurt, whose city council moved to cancel a May 28 concert by Waters in late February, citing his longtime support for BDS and his status as "one of the world's most well-known antisemites," councils in Munich and Cologne are reportedly seeking to enact similar measures to prevent the singer from appearing in their cities.
In Munich, a grouping of center and left-wing parties released a statement calling for Waters' concert scheduled for May 21 at the city's Olympiahalle to be cancelled, DPA reported. The lawmakers were hopeful they could work through legalities to prevent the show from occurring but if not, they urged the display of Israeli and Ukrainian flags outside the venue along with handing out literature to concertgoers detailing the musician's hateful statements and beliefs.
The coalition will put forward their resolution on Tuesday when the council's economic committee meets. If enacted, Munich Mayor Dieter Reiter would be tasked with ordering Olympiahalle to cancel the concert.
A broad coalition of councilors in Cologne also issued a joint declaration urging the cancelation of Waters' May 9 show at Lanxess Arena. Local politicians in Hamburg and Berlin have made similar moves, the Algemeiner reported.
Waters' Frankfurt performance was supposed to take place on May 28 at the "Festhalle" complex in the German city. In the statement of the city council that announced the cancellation, it was noted that the location was also used for the detention of 3,000 Jewish men who were arrested after Kristallnacht, between November 9-10, 1938, in which Nazis attacked Jews and destroyed their property. The men were abused and later deported to concentration camps.
The council also condemned Waters for his support of the BDS campaign and for the pressure he exerted on other artists not to perform in Israel.
Earlier in the month, the Jewish community in Porto, Portugal urged the cancellation of Waters' two shows in the country, calling for him to visit city's Holocaust museum.
The Jewish Community of Porto said in a statement that it was unfortunate the controversial musician, who has been accused of antisemitism on multiple occasions, was scheduled to perform in Lisbon on March 17 and 18.
"The persecution of Jews over millennia, based on ideas, religion, culture, race, money and success, has been converted in the modern period to the despicable hatred of the State of Israel," the community said in a statement. "Waters knows that he has a big influence on his fans and that his ideas about Israel can arm crowds that will fire shots tomorrow."