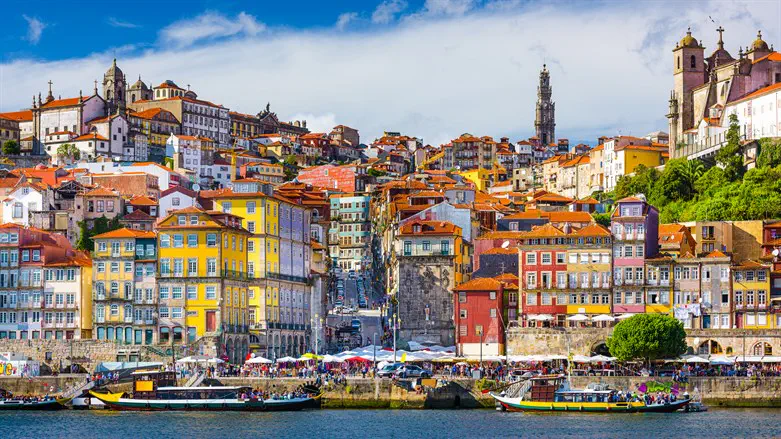 Old City of Porto, Portugal
iStock
Jewish leaders in Porto, Portugal denounced two upcoming concerts by former Pink Floyd frontman Roger Waters taking place this month in Lisbon.
The Jewish Community of Porto said in a statement that it was unfortunate the controversial musician, who has been accused of antisemitism on multiple occasions, was scheduled to perform in the country on March 17 and 18.
They added that if his concerts went ahead, they invited him to visit the city's Holocaust museum.
"The persecution of Jews over millennia, based on ideas, religion, culture, race, money and success, has been converted in the modern period to the despicable hatred of the State of Israel," the community said in a statement. "Waters knows that he has a big influence on his fans and that his ideas about Israel can arm crowds that will fire shots tomorrow."
The statement continued: "The silence in the West regarding BDS (Boycott, Divestment and Sanctions), which advocates the economic, political, academic and cultural isolation of the State of Israel, goes hand in hand with [Russian] antisemitism dedicated to destroying all truly relevant Jewish realities in the Diaspora."
In late February, Frankfurt, Germany announced that an upcoming May 28 Waters show had been cancelled, citing the musician's status as "one of the world's most well-known antisemites" as the reason for the cancellation.
In the statement, the city council noted that the location where the concert was to take place was also used for the detention of 3,000 Jewish men who were arrested after Kristallnacht, between November 9-10, 1938, in which Nazis attacked Jews and destroyed their property. The men were abused and later deported to concentration camps.
The council also condemned Waters for his support of the BDS campaign, his calls to boycott Israel, and for the pressure he exerted on other artists not to perform in Israel.
Several weeks earlier, Pink Floyd guitarist David Gilmour's wife Polly Samson described Waters in a tweet as "antisemitic to your rotten core."
Responding to a tweet from Waters in which he mentioned an interview he gave to a German newspaper "against the backdrop of the outrageous and despicable smear campaign by the Israeli lobby to denounce me as an antisemite, which I am not, never have been and never will be" and also a comment from Waters doubling down on his comparison of Israel with Nazi Germany in which he claimed it was "committing genocide," Samson shot back that Waters was antisemitic to his "rotten core."
"Sadly Roger Waters you are antisemitic to your rotten core," tweeted Samson, who is a lyricist and novelist. "Also a Putin apologist and a lying, thieving, hypocritical, tax-avoiding, lip-synching, misogynistic, sick-with-envy, megalomaniac. Enough of your nonsense."