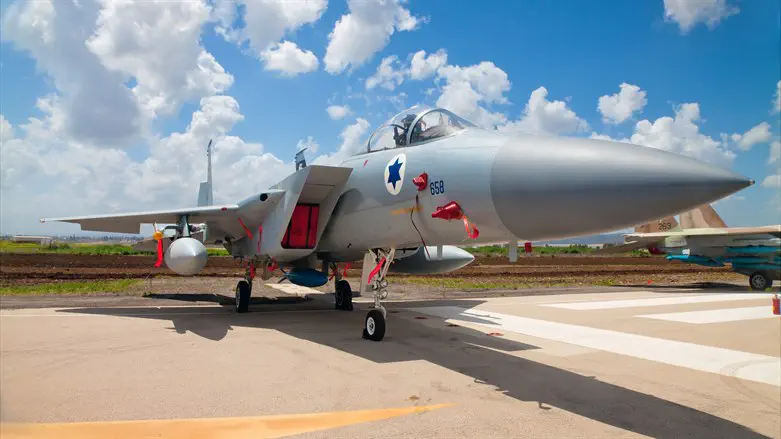 F-15 fighter
: iStock
The 37 pilots from the Israel Air Force's 69th fighter squadron who announced on Sunday that they would not report for their scheduled combat training this week announced today (Tuesday) that they will report to their base tomorrow for discussions.
The squadron, known as 'The Hammers,' has 40 reserve pilots in total, and took part in the destruction of the Syrian nuclear reactor in 2007 and numerous airstrikes to prevent Iran from establishing itself militarily in Syria in recent years.
"We are responding to the call of our commanders and will report to the unit tomorrow to talk to the soldiers," the pilots said, "We have full confidence in the commanders and will continue to serve the Jewish and democratic State of Israel as long as necessary."
The pilots will meet tomorrow meeting with Defense Minister Yoav Gallant, Chief of Staff Herzi Halevi and Air Force Commander Major General Tomer Bar. The pilots will ask Gallant to pressure Prime Minister Benjamin Netanyahu and Justice Minister Yariv Levin in order to stop the legislative process on Levin's judicial reforms and start negotiations with the opposition.
The pilots had previously stated that instead of reporting for duty as scheduled, they would protest outside government offices against the judicial reforms.
Channel 13 News reported Tuesday night that that Prime Minister Netanyahu is working to convince Justice Minister Levin to be flexible in his talks with President Isaac Herzog, and that the current controversy centers on the composition for the committee which selects the judges of the Supreme Court.
Meanwhile, Knesset Constitution Committee chairman MK Simcha Rothman summoned the members of the committee for discussions on the continuation of the judicial reform legislation on Sunday, Monday, Tuesday and Wednesday of next week. A marathon of discussions is expected to prepare the legislation for its final stage - its second and third readings in the Knesset.
During these meetings, the Constitution Committee will discuss the portions of the reforms that deal with changing the composition of the Committee for the Appointment of Judges and the prevention of the Supreme Court from striking down Basic Laws.
MK Rothman said this morning that "there is a broad consensus in the public, in academia, in hi-tech, in the economy, and among Knesset Members regarding the need for sweeping reform, and on the basic principles of this [reform]."
"After many days of talks, we can say that there are broad agreements that are within reach, including those that would not destroy the reform's basic goals and that would enjoy broad support. We will continue to move ahead with the legislation as planned, and we will also continue efforts to reach a broad agreement, as we have done in recent months."