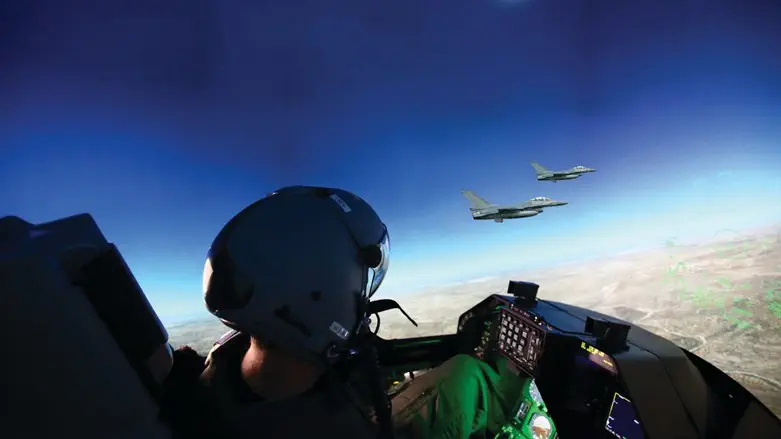 Air Force Pilot
Defense Ministry Spokesperson
37 out of 40 reserve pilots from the Israel Air Force's 69th fighter squadron announced that they will not show up for their scheduled combat training this Wednesday in protest against the government's planned judicial reforms.
The 69th Squadron, which is called the "Hammers" Squadron, is one of Israel's most elite fighter squadrons. Its pilots fly the advanced F-15I Thunderbird aircraft and have participated in Israel's 'war between the wars' campaign to prevent Iranian military entrenchment in Syria. It also participated in the destruction of Syria's nuclear reactor in 2007. The squadron received a citation from the Chief of Staff for its efforts in 2018.
Haaretz reported that the pilots informed the commanders of the Air Force and the commander of the squadron of their decision to protest in front of government offices rather than return to the base for their scheduled training.
Many IDF reservists have signed petitions in which they threatened that they would not report for reserve duty if the judicial reforms are implemented. On Friday, a group of 60 senior pilots met with Air Force Commander Major General Tomer Bar and expressed their concerns that the judicial reforms could leave them vulnerable to prosecution in the International Criminal Court.
Maj. Gen. Bar called on the reservists in the force to continue reporting for training, even though he is "aware and attentive to the difficulties and challenges we all face these days and respects their doubts."
However, he said: "My expectation as IAF commander, like the expectation of the commanders alongside me, is that you will continue to report to your units for duty; that you will continue to serve and fulfill your commitment to your unit, to your subordinates and to your commanders, to the State of Israel, to its security and the protection of its citizens. You [must] show commitment and responsibility for the cohesion of the ranks, the soldiers and the brotherhood of fighters. There is no substitute for you all."
The IDF stated in response: "The army is conducting a continuous assessment of the situation and command discourse in light of the recent events and in light of the many security tasks we face and the competence which is therefore required of the IDF. The Chief of Staff instructed the members of the General Staff Forum to hold a command discourse, each commander with his unit, and emphasized that he is aware of the public discourse and the dispute, but will not allow harm to the IDF's ability to realize the goal of the missions - maintaining the security of the state. Unity of purpose is essential to the IDF's ability and competence in fulfilling its missions."