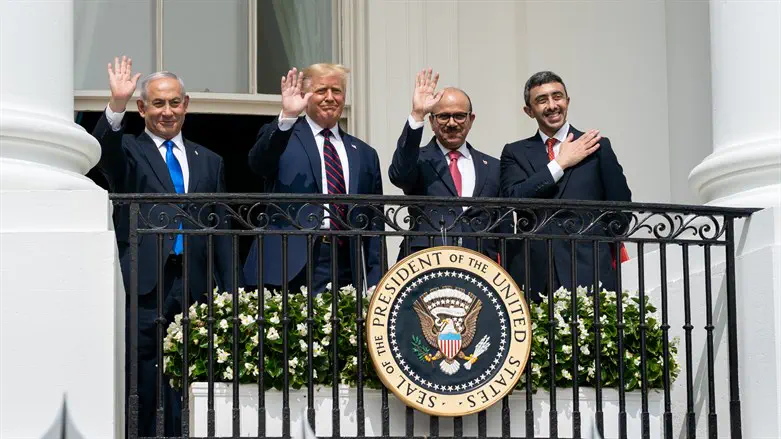 Abraham Accords Signing Ceremony
Official White House Photo by Andrea Hanks
US Reps. Ritchie Torres (D-NY) and Mike Lawler (R-NY) introduced bipartisan legislation on Tuesday to establish a special envoy within the US State Department dedicated to advancing the Abraham Accords.
The envoy would work to further the Abraham Accords, which the US brokered in 2020 leading to normalization agreements between Israel and Arab countries.
In early February, it was revealed that Sudan is set to join the Abraham Accords, and Israel hopes to also forge agreements with Mauritania and Indonesia.
Torres praised the Accords for "[giving] birth to a new Middle East, which is unfolding in real time."
"However, these breakthrough diplomatic agreements cannot be allowed to wither away due to bureaucratic neglect or negligence," he said. "Regardless of the administration, too often we see progress muddled by bureaucracy in which many people have power but there is no actual responsibility. There must be a clear delineation of power coming from within the federal government such as an ambassador-level special envoy position because the Abraham Accords are so monumental."
According to Lawler, the special envoy would serve to focus the State Department on advancing the Accords.
"The diplomatic impact of the Abraham Accords has been incredible to watch, as relations between Israel and Arab nations in the Middle East have improved dramatically from where they once were," he said.
"There is still room for improvement, though, and I truly believe that establishing a new special envoy position in the Department of State that is focused on advancing the Abraham Accords will lead to a safer and more prosperous future for Israel and all nations in the Middle East. I am hopeful that the Biden administration, House Republicans, and Senate Democrats will all work together to make this critical and necessary envoy a reality."
The "Special Envoy for the Abraham Accords Act" would give the new position powers to work in coordination with regional ambassadors, nongovernmental organizations, and other stakeholders to strengthen and expand the Abraham Accords.
The envoy would be appointed by the president, confirmed by the Senate, and report report directly to the Secretary of State. They would be required to have high-level diplomatic experience in the Middle East and be knowledgeable about the region.
The legislation has been endorsed by the American Jewish Committee.
"American Jewish Committee, which has worked for three decades to encourage greater cooperation across the Middle East and North Africa, has been proud to support the Abraham Accords," said Jason Isaacson, Chief Policy and Political Affairs Officer of American Jewish Committee. "These normalization agreements – combined with the creation of regional bodies and incremental openings from other Arab League states – are already yielding tangible benefits and promise to lead to new opportunities and a widening of the circle of peace."
Isaacson added: "We appreciate the dedication of the many U.S. government officials who have made these diplomatic breakthroughs possible and their continued efforts to strengthen and expand these agreements, and we applaud Reps. Torres and Lawler for spearheading an initiative to ensure these officials have the necessary tools to continue their important work."