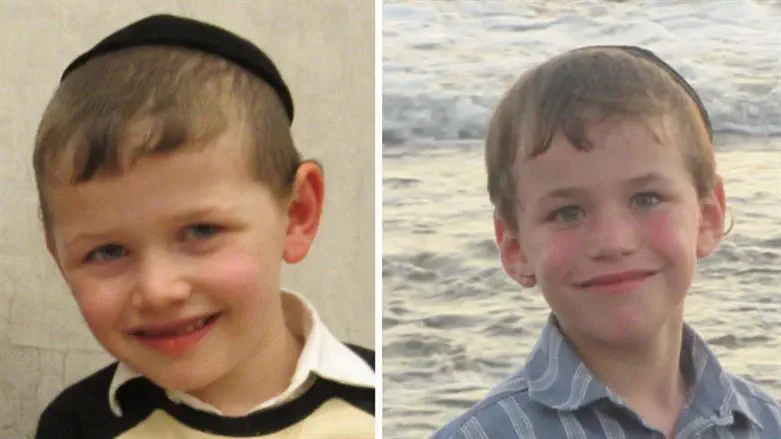 Asher and Yaakov Paley
Courtesy of the family
Hundreds attended the funeral on Saturday night of Asher Menachem Paley, the eight-year-old boy who was murdered in a ramming attack in the Ramot neighborhood of Jerusalem together with his younger brother Yaakov Yisrael on Friday.
At the same time, Alter Shlomo Lederman, who was also murdered in the attack, was laid to rest.
The eulogies for Asher Paley took place at the entrance to his home, from which the scene of the attack can be seen. Rabbi Shmuel Paley, the boys' grandfather, eulogized: "Who knew that now a fire had to come and consume these two holy souls, these two flowers? We don't understand why, but we know that G-d does it himself. All this suffering is not for naught, it has a reason."
The second grandfather, Rabbi Amos Guner, also eulogized: "These boys were so holy, so spiritual. We suffered a terrible tragedy, how can we be consoled."
The boys' 16-year-old brother, Tzvika, said: "Ushi, Yaakov, every week at this time, you come home with dad. It's a smile on your face, it's the happiness that you are thanking G-d for sanctifying his name. I was with you during your final moments, now you're in a high place. G-d will give us the strength to continue.
At the funeral of Alter Shlomo Lederman, a Hassid from the Pinsk-Karlin community, a prerecorded eulogy from the grand rabbi was played. "Alter gave his soul for us!" the rabbi declared.