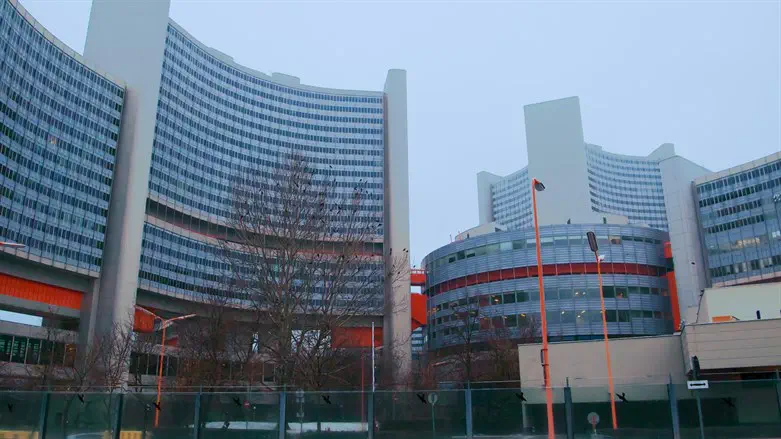 Vienna International Centre, where IAEA offices are located
iStock
Iran on Saturday slammed International Atomic Energy Agency (IAEA) chief Rafael Grossi after the UN nuclear watchdog raised concerns over covert changes to equipment at Iran's Fordow uranium enrichment plant, AFP reported, citing state media.
The IAEA this past Wednesday released a new report criticizing Iran for making an undeclared change to the interconnection between the two clusters of advanced machines enriching uranium to up to 60% purity at Fordow.
Iran said later that an inspector had "inadvertently" reported the changes, and that Grossi had issued the report despite the matter being resolved — a response that the United States and its allies criticized as "inadequate."
"We gave a letter to the agency that an inspector... made a mistake and gave an incorrect report," Mohamad Eslami, the head of the Atomic Energy Organization of Iran, was quoted as saying by state news agency IRNA on Saturday.
"But yet again the director-general of the agency released this issue to the media," he said, labelling it "unprofessional and unacceptable" behavior.
"We hope that this practice will not be continued... because this is not acceptable for his reputation and the agency," continued Eslami.
In June of 2022, the IAEA reported that Iran is escalating its uranium enrichment further by preparing to use advanced IR-6 centrifuges at its underground Fordow site that can more easily switch between enrichment levels.
A month later, Iran announced that it has begun enriching uranium up to 20% using sophisticated centrifuges at Fordow.
The latest IAEA report comes as talks between Iran and world powers on a return to the 2015 Iran deal remain stalled.
Former President Donald Trump withdrew from the 2015 Iran nuclear deal in 2018, and Iran responded by scaling back its compliance with the agreement.
The Biden administration sought to return to the deal and held indirect talks with Iran on a return to compliance.
Those talks have been stalled since September, when Iran announced it had submitted its comments to the US response to the European Union's draft for reviving the 2015 Iran nuclear deal.
While Iran's Foreign Ministry spokesperson said at the time that Iran's response was prepared based on a constructive approach, a senior Biden administration official said the Iranian response "is not at all encouraging."
A US official later said that the efforts to revive the 2015 Iran nuclear deal have "hit a wall" because of Iran's insistence on the closure of the UN nuclear watchdog's investigations.