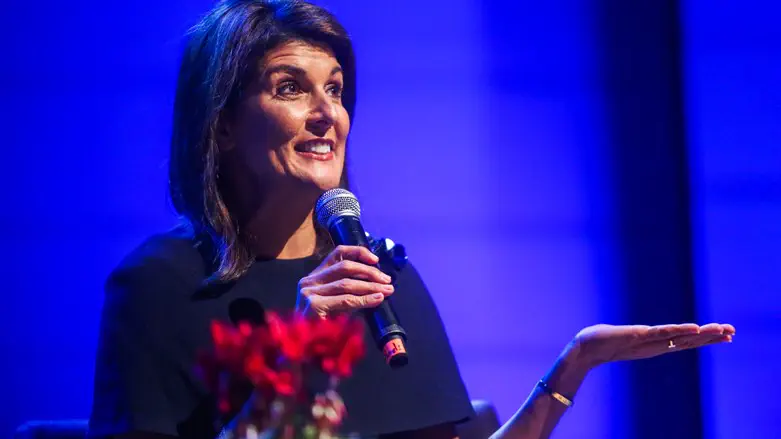 Nikki Haley
Flash 90
Former US Ambassador to the UN Nikki Haley is set make her presidential campaign official, The Associated Press reported late on Tuesday.
According to the report, on Wednesday, supporters of the former South Carolina governor will get an email invitation to a Feb. 15 launch event in Charleston, at which she plans to announce her campaign. AP cited a person familiar with the plans but not authorized to speak publicly about them.
Haley, 51, served as South Carolina's governor for six years before serving as then-President Donald Trump's Ambassador to the United Nations. When she enters the race, Haley will be the first contender to join the contest against Trump, who is currently the sole Republican seeking his party's 2024 nomination.
Haley stepped down from her UN role in late 2018 but had reportedly done so while on friendly terms with Trump.
Following the January 6, 2021, attack on the Capitol, however, she directly criticized Trump for his involvement in stoking the riots.
"We need to acknowledge he let us down. He went down a path he shouldn't have, and we shouldn't have followed him, and we shouldn't have listened to him. And we can't let that ever happen again," Haley told Politico magazine.
In 2021, Haley told AP that she "would not run if President Trump ran," but has since shifted course, ramping up activity through her Stand for America nonprofit and political action committee, and endorsing dozens of candidates in the 2022 midterm elections.
In November, Haley hinted at her intention to seek the Republican nomination for the 2024 US presidential race during her address to the Republican Jewish Coalition (RJC) political conference.
In her remarks at the time, she said that if the Biden administration succeeds in reviving the 2015 Iran nuclear deal, "the next president will shred it on her first day in office."
"A lot people have asked if I'm going to run for president now that the midterms are over. I'll look at it in a serious way and I'll have more to say soon," she said.