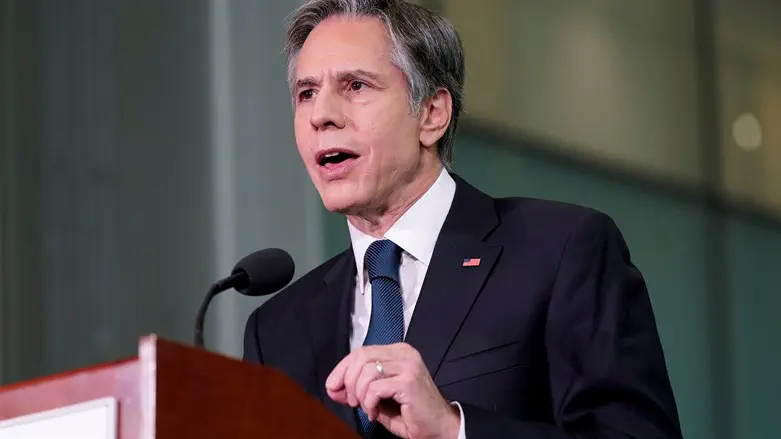 Antony Blinken
Reuters
Israeli Foreign Minister Eli Cohen welcomed to Jerusalem US Secretary of State Anthony Blinken.
"I am very pleased to host a true friend of Israel," Cohen said. "This is a very difficult week for us in Israel, and for all of our friends and allies. Your presence here, during this very sad week is most meaningful."
Cohen noted that every visit of an American Secretary of State to Israel is "historic and important."
"It is significant and will strengthen the relationship between our countries," he said. "Our alliance serves as one of the main pillars of our national security, defense, and foreign relations."
He continued: "This past Shabbat, the residents of Jerusalem suffered two terrible terror attacks. The first, took place on International Holocaust Remembrance Day, outside of a Synagogue, on Friday night, seven Israeli civilians were murdered by a Palestinian Arab terrorist. They were killed just because they are Jews."
Remarking that the very next day that "a 13-year-old Palestinian Arab terrorist, filled with blind hatred which he learned from his parents, his school, and his society, shot and wounded an Israeli father and son, who were on their way home from Shabbat prayer services," Cohen warned that "Palestinian incitement, stemming from terrorist organizations and the Palestinian Authority, has real and deadly implications, provoking violence and terror against innocent civilians. This must be stopped."
He thanked Blinken for his "clear message against terrorism and incitement."
"The words of support we received from our friends in the United States strengthen us," Cohen said.
"We received many messages of support from leaders around the world, including many Arab and Muslim countries, who were shocked by these attacks and expressed their sorrow. It is truly heartwarming to know that Israel has so many friends around the world," Cohen added.
He commented that the region has dramatically changed as a result of the Abraham Accords.
"These agreements increased regional stability and economic prosperity. It also created a unique opportunity in the form of a regional coalition against the Iranian threat," he said.
Addressing Blinken, he explained that his goal is to "strengthen the existing Abraham Accords, and to expand relations with additional countries."
"In order to achieve this goal, we need your leadership, Secretary Blinken, and of the United States, which has been with us every step of the way in expanding peace in the region," Cohen said, thanking Blinken for America's strong commitment to preventing Iran from obtaining nuclear weapons.
"Unfortunately, we are in a reality where Iran is rapidly advancing towards its goal of becoming a nuclear state. The international community must act quickly and effectively against Iran's nuclear program, its destabilizing activities in the Middle East, and its financing of terror organizations, including the Revolutionary Guards, which is the largest state terrorist organization in the world."
Cohen also thanked Blinken for the Israel qualifying for one of the US's visa waiver program's key requirements.
"I would also like to thank President Joe Biden and a special thank you to Ambassador Tom Nides for his personal involvement in this matter," he said. "We will take all the necessary measures, including legislation, in order to meet the requirements by the end of this year."
Cohen praised the strong relationship between the US and Israel.
"The alliance between the US and Israel is as strong and unbreakable as ever. Even though we may have differences of opinion on certain issues, we will always remain friends and will always be able to discuss our differences in a friendly manner and reach agreements," he said.