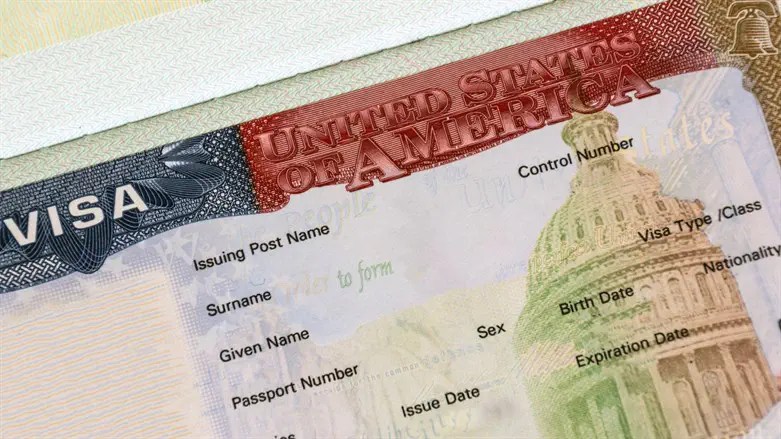 US visa
iStock
Israel overcame a major hurdle in its bid to make travel to the United States easier for its citizens, qualifying for one of the US visa waiver program's key requirements.
In a statement released by US Ambassador to Israel Thomas Nides Monday, the US mission in Israel said that Israel now meets the visa rejection rate requirement, removing one major obstacle for Israel's inclusion in the program.
Under the visa waiver program, which allows citizens of participating countries to travel to the US without first seeking a visa from a local US consulate or embassy, the candidate country must have less than 3% of all non-immigrant visa (NIV) application requests rejected during the preceding trial period.
While the NIV rejection rate among Israeli visa applicants was persistently above 3% for years, stymieing efforts to bring Israel into the waiver program, Israel's fulfillment of the NIV rejection rate requirement does not guarantee the Jewish state will be included in the program.
"Entry into the Visa Waiver Program is a complex and laborious process. Being below the 3% non-immigrant visa refusal rate is just the one of many steps that Israel must undertake to join the program," Nides said.
"The government of Israel must meet all requirements to enter the program, and a lot of work needs to be done in a very short amount of time."
Outstanding issues between the US and Israel must still be resolved, putting pressure on Jerusalem to comply with American requirements for the program.
Three laws must be passed by the Knesset enabling data sharing on travelers with the US, after which the Israeli government will have to move quickly to set up the many technical requirements needed to become eligible for the waiver program.
"These are specific to data sharing and traveler screening, including information systems that have to be developed, then implemented, and tested. The window for Israel to complete these actions and pass the required laws closes in September 2023, which is the end of the U.S. fiscal year."
In addition, the US has demanded Israel ease entry for Palestinian American travelers, with a reciprocity standard that could challenge Israeli security requirements and the country's anti-BDS law, which allows Israel to bar supporters of the Boycott, Divestment and Sanctions movement from entering the country.
Under the reciprocity requirement, participating countries in the visa waiver program must grant freedom of travel to all US citizens, "including Palestinian Americans, seeking to enter or transit through Israel. This means that any person who has U.S. citizenship and holds an American passport will be able to fly to Israel on short term visits of less than 90 days, including travel to and out of the West Bank through Ben Gurion Airport," the US embassy said in a statement.