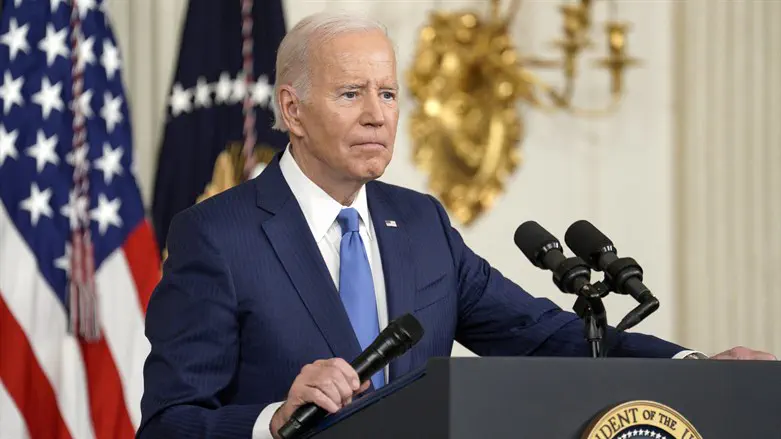 US President Joe Biden
Gripas Yuri/ABACA via Reuters Connect
US President Joe Biden did not know that classified documents from his vice presidential days were at a Washington think tank or house in Wilmington, Delaware, White House spokesperson Karine Jean-Pierre said on Thursday, according to Reuters.
Biden also did not know what was in those classified documents, the White House said.
The comments came after US Attorney General Merrick Garland announced he had appointed Robert Hur as special counsel to investigate the classified documents.
On Monday, a White House lawyer said a "small number of documents" with classified markings that are tied to Biden and appear to be from the Obama administration are under review by the Justice Department and National Archives.
Aides to US President Joe Biden discovered at least one additional batch of classified documents in a location separate from the Washington office he used after leaving the Obama administration, a person familiar with the matter told NBC News on Wednesday.
Garland said that President Biden's lawyers informed the Justice Department that a classified document had been found at Biden's home.
"The extraordinary circumstances here require the appointment of a special counsel for this matter," Garland said.
Biden commented on the initial findings for the first time on Tuesday, telling reporters he was "surprised" that the documents were found.
The President added that his attorneys "did what they should have done" when they immediately called the National Archives about the discovery.
"I don't know what's in the documents," he stated, saying his lawyers have suggested he not inquire what was in them.
Biden's classified documents follow the the saga of the classified documents which were discovered at former President Donald Trump's estate in Florida, after FBI agents raided the home in August. Investigators seized 33 more boxes of records, including more than 100 documents marked classified.
A report in September indicated that a document describing a foreign government's military defenses, including its nuclear capabilities, was found by FBI agents during the search of Trump's home.
A subsequent report in October said some of the classified documents recovered by the FBI from Mar-a-Lago included highly sensitive intelligence regarding Iran and China.