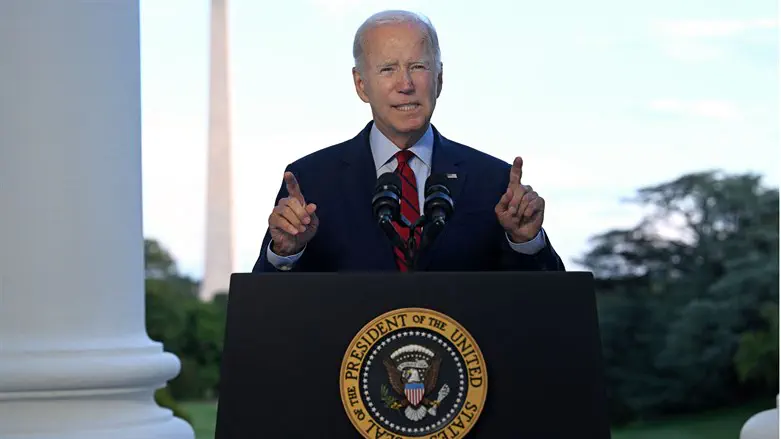 Joe Biden
Pool/ABACA via Reuters Connect
US President Joe Biden said on Tuesday that he was "surprised' when he was informed that government records were found by his attorneys at a former office space in Washington.
"I was surprised to learn there were any government records that were taken there to that office," Biden said in response to a reporter's question at a news conference in Mexico City.
The President added that his attorneys "did what they should have done" when they immediately called the National Archives about the discovery.
"I don't know what's in the documents," he stated, saying his lawyers have suggested he not inquire what was in them.
The comments came a day after a White House lawyer said a "small number of documents" with classified markings that are tied to Biden and appear to be from the Obama administration are under review by the Justice Department and National Archives.
The documents were discovered in a locked closet by Biden's attorneys days before the midterm elections as they prepared to vacate office space at the Penn Biden Center for Diplomacy and Global Engagement, said Richard Sauber, special counsel to the President, in a statement.
CNN reported on Tuesday that among the classified documents are US intelligence memos and briefing materials that covered topics including Ukraine, Iran and the United Kingdom, according to a separate source familiar with the matter.
Fewer than a dozen classified documents were found at the office, another source told CNN. It is unclear why they were taken to Biden's private office. The classified materials included some top-secret files with the "sensitive compartmented information" designation, also known as SCI, which is used for highly sensitive information obtained from intelligence sources. Federal officeholders are required by law to relinquish official documents and classified records when their government service ends.
In response to specific questions about why the Biden team did not disclose the discovery of classified documents in November at Biden's private office, Ian Sams, a spokesman for the White House counsel's office, said that they are "limited in what we can say" now because the Justice Department is looking into the matter, and "further details" may be shared in the future.
"This is an ongoing process under review by DOJ, so we are going to be limited in what we can say at this time. But we are committed to doing this the right way, and we will provide further details when and as appropriate," Sams said in a statement Tuesday afternoon.
The news follows the saga of the classified documents which were discovered at former President Donald Trump's estate in Florida, after FBI agents raided the home in August. Investigators seized 33 more boxes of records, including more than 100 documents marked classified.
A report in September indicated that a document describing a foreign government's military defenses, including its nuclear capabilities, was found by FBI agents during the search of Trump's home.
A subsequent report in October said some of the classified documents recovered by the FBI from Mar-a-Lago included highly sensitive intelligence regarding Iran and China.
Trump insists that he declassified the documents in question before leaving office. The former President and his lawyers have publicly insinuated on multiple occasions that the agents who carried out the raid planted evidence during the search.