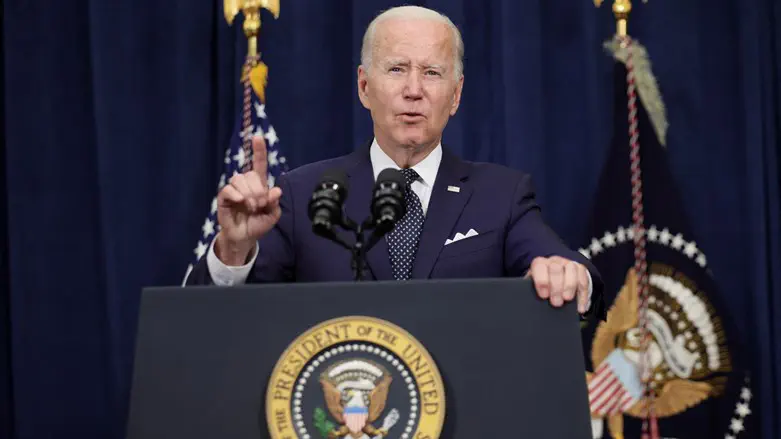 Joe Biden
REUTERS/Evelyn Hockstein
A "small number of documents" with classified markings that are tied to President Joe Biden and appear to be from the Obama administration are under review by the Justice Department and National Archives, a White House lawyer said Monday, according to NBC News.
The documents were discovered in a locked closet by Biden's attorneys days before the midterm elections as they prepared to vacate office space at the Penn Biden Center for Diplomacy and Global Engagement, said Richard Sauber, special counsel to the President, in a statement.
CBS News first reported on the review of documents.
Sauber said that the White House is cooperating with the Justice Department and National Archives regarding the discovery of the documents found in an office that Biden "periodically" used from mid-2017 until the start of his 2020 presidential campaign.
"The White House is cooperating with the National Archives and the Department of Justice regarding the discovery of what appear to be Obama-Biden Administration records, including a small number of documents with classified markings," Sauber said.
A source familiar with the matter confirmed that Attorney General Merrick Garland asked the US Attorney for the Northern District of Illinois, John R. Lausch, to review the matter of how classified material ended up at the Penn Biden Center.
The review was intentionally assigned to Lausch, a holdover Trump appointee, to avoid any conflict of interest, the source said.
Sauber said that the classified material was discovered on November 2 by Biden's personal attorneys and the White House Counsel's Office notified National Archives which took possession of the materials the following morning.
"The documents were not the subject of any previous request or inquiry by the Archives," Sauber said. "Since that discovery, the President's personal attorneys have cooperated with the Archives and the Department of Justice in a process to ensure that any Obama-Biden Administration records are appropriately in the possession of the Archives."
The news follows the saga of the classified documents which were discovered at former President Donald Trump's estate in Florida, after FBI agents raided the home in August. Investigators seized 33 more boxes of records, including more than 100 documents marked classified.
A report in September indicated that a document describing a foreign government's military defenses, including its nuclear capabilities, was found by FBI agents during the search of Trump's home.
A subsequent report in October said some of the classified documents recovered by the FBI from Mar-a-Lago included highly sensitive intelligence regarding Iran and China.
Trump insists that he declassified the documents in question before leaving office. The former President and his lawyers have publicly insinuated on multiple occasions that the agents who carried out the raid planted evidence during the search.