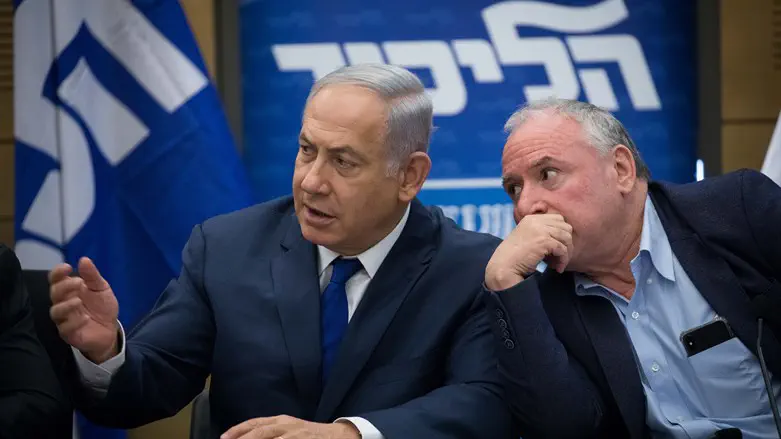 Netanyahu and Amsalem
Yonatan Sindel/Flash 90
Prime Minister Benjamin Netanyahu is set to make an offer to MK Dudi Amsalem, a member of his Likud Party, in a bid to resolve the crisis between them, Kan 11 News reported on Sunday.
According to the report, Amsalem told his associates that he would not rule out an offer that would give him a position in the government related to the reforms of the judicial system, for example a member of the Judicial Selection Committee alongside a ministerial position in the government.
It is believed that Netanyahu and Amsalem will meet soon, the report said.
Amsalem has been critical of Netanyahu. On Friday, he launched an unprecedented attack on the Prime Minister after being left out of the government, in which he claimed that Netanyahu was discriminating against him due to the fact that he's of Mizrahi origin.
"No one will ever humiliate David Amsalem. They are not humiliating just Amsalem - but all the Amsalems and Bitans," he said.
"Not here, not in our party of which we make up 70%. I am in my home, Dudi Amsalem, I grew up in the Likud, I am the most veteran among the members of the faction. I have been in the Likud as a child since the age of 15 - I am not second tier," he charged.
On Saturday night, Netanyahu's office rejected Amsalem's claims.
"The claim that there is sectarian preference in Likud is ridiculous and untrue. It is enough to see the list of senior officials in the Likud which includes Amir Ohana - Speaker of the Knesset, Eli Cohen - Minister of Foreign Affairs, Miri Regev - Minister of Transportation, David Bitan - Chairman of the Economic Committee and Ministers Miki Zohar, Idit Silman, Gila Gamliel, Amichai Chikli, Galit Distel and Shlomo Karhi - to refute this ridiculous claim," Netanyahu's office said.
The statement also noted that Netanyahu values and cherishes MK Amsalem and therefore offered him any executive position in the government that he would like. "It is unfortunate that he rejected this proposal time and time again. Prime Minister Netanyahu is interested in integrating MK Amsalem into the government and hopes that a way will be found to do so."
On Sunday, Reshet Bet radio reported that Amsalem has been accusing Netanyahu in closed conversations of blocking every bill Amsalem wanted to advance regarding the reforms in the judicial system.
Amsalem claimed, according to the reort, that the requests for him to withdraw his bills on this issue continued until recently, when the Likud was in the opposition.