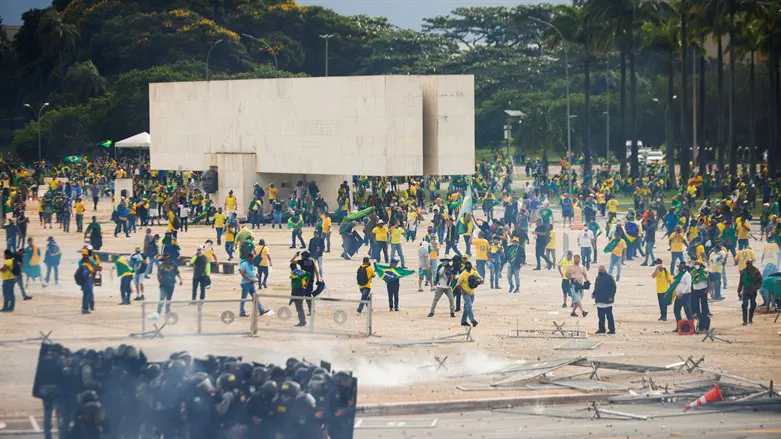 Rioters storm parliament building in Brasilia
REUTERS/Adriano Machado
Brazilian President Luiz Inacio Lula da Silva said on Sunday that the perpetrators will be found and punished, after supporters of former President Jair Bolsonaro stormed Congress, the BBC reported.
Supporters of Bolsonaro, who refuse to accept that he lost the election, broke through police barriers in the capital, Brasília.
Da Silva said there was "no precedent in the history of our country" for the scenes seen at Congress and at the Supreme Court.
He called the violence the "acts of vandals and fascists".
Protesters smashed windows, while others reached the Senate chamber, where they jumped on to seats and used benches as slides.
Footage on social media showed protesters pulling a policeman from his horse and attacking him outside the building, according to the BBC.
Later on Sunday, local media reported that the security forces in Brazil regained control of the Congress building, the Supreme Court and the Presidential Palace.
Supporters of Bolsonaro have claimed the election was stolen. Hardcore supporters have even openly called for a military coup in order to put him back in charge, with some seeking to sow chaos through vandalism and violent attacks in hopes of triggering a military response.
Bolsonaro challenged the election in November, arguing votes from some machines should be "invalidated". However, the head of Brazil's electoral court rejected the complaint.