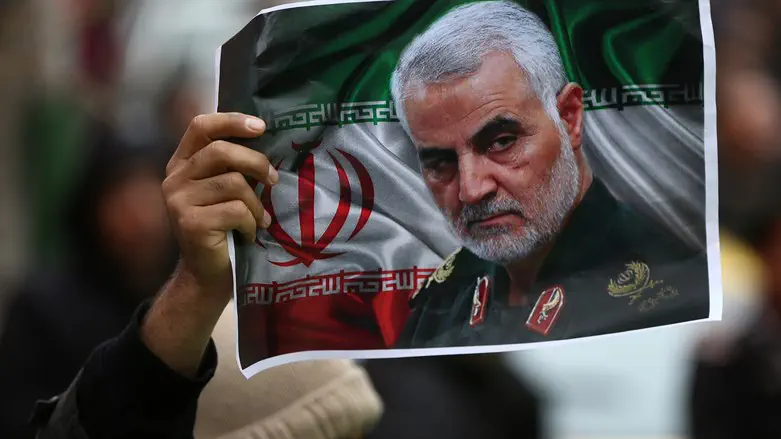 Rally in memorial of Qassem Soleimani in Tehran
Reuters
Iran's Defense Minister, Mohammad Reza Ashtiani, said on Monday that the Iranian armed forces will take revenge for the elimination of top general Qassem Soleimani.
"The commanders and perpetrators of this cowardly assassination will be punished for their shameful act in a time and place they do not even think of," Ashtiani said in a message released on the occasion of the third anniversary of the elimination of Soleimani and quoted by the IRNA news agency.
"The Defense Ministry will pave the way for realization of all the aspirations of Imam Khomeini, the supreme leader of the Islamic Revolution Ayatollah Seyyed Ali Khamenei, and our valuable and dear martyrs, such as Lieutenant General Qassem Soleimani, by using all the military capacities and support of the armed forces," the statement added.
Soleimani was eliminated in a US drone strike in Baghdad in January of 2020 ordered by then-President Donald Trump.
Iran retaliated several days later by firing a dozen ballistic missiles against US military and coalition forces in Iraq, but Iranian officials have repeatedly vowed to avenge the death of Soleimani.
Iran in 2020 issued an arrest warrant against Trump and asked for Interpol's aid in detaining him in the killing of Soleimani.
Interpol swiftly rejected the request, saying its guidelines for notices forbids it from "any intervention or activities of a political" nature.
More recently, Iran announced it seeks to prosecute 127 suspects, who were not named, for involvement and cooperation in the elimination of Soleimani.
Last year, an animated video published on the website of Iranian Supreme Leader Ayatollah Ali Khamenei depicted the assassination of Trump.