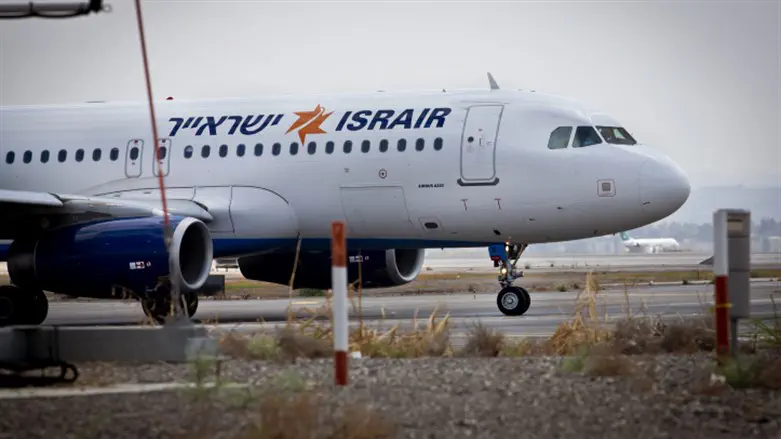 Israir
Flash 90
Israir Airlines will start operating five flights a week from Israel to Istanbul starting this Monday, after 15 years in which Israeli airlines did not fly to Turkey.
The flights will operate on Sunday, Monday, Wednesday, Thursday and Friday. Flight prices will start from $119 per direction.
Hila Hermolin-Ronen, Vice President of Marketing and Sales at Israir, said, "Israir welcomes the groundbreaking agreement under which the Israeli airlines will be able to fly to the destination. Istanbul is one of the most attractive destinations among Israelis and combines excellent hotels, places of entertainment and extremely cheap shopping, all of this alongside a short flight that allows for a small and relatively cheap visit abroad. Israir congratulates all the parties involved and is confident that many Israeli vacationers will visit the destination in the coming year."
News of the agreement comes one day after Israel's Ambassador to Turkey, Irit Lillian, presented her credentials to Turkish President Recep Tayyip Erdogan.
"It was an exciting occasion and fills the heart with hope," said Lillian at the ceremony in Ankara, which included Israel's national anthem, Hatikvah, played by a Turkish honor guard.
The Israeli envoy expressed hope that bilateral ties would continue to expand.
"We all expect that the process of growing closer diplomatically between Israel and Turkey will become stronger, broaden, and spread over many areas of cooperation," she said in a video statement, adding, "Here it is customary to say Inshallah, and I hope that will indeed arise."
Lillian was appointed Israel's Ambassador to Turkey in September. She had previously served for two years as the charge d'affaires in the Israeli Embassy in Ankara. Lillian is the first to hold the position of Ambassador after four years in which no Israeli Ambassador was appointed to Turkey due to the ongoing conflict between the two countries.
The decision to appoint Lillian to the position of Ambassador followed an announcement that Turkey and Israel would normalize relations by returning the ambassadors and consuls.
After the recent Israeli election, Erdogan and Prime Minister-designate Benjamin Netanyahu spoke on the phone for 12 minutes.
During the conversation, Erdogan congratulated Netanyahu on his election victory. The two leaders concluded that they will cooperate in starting a new age in Israeli-Turkish relations.