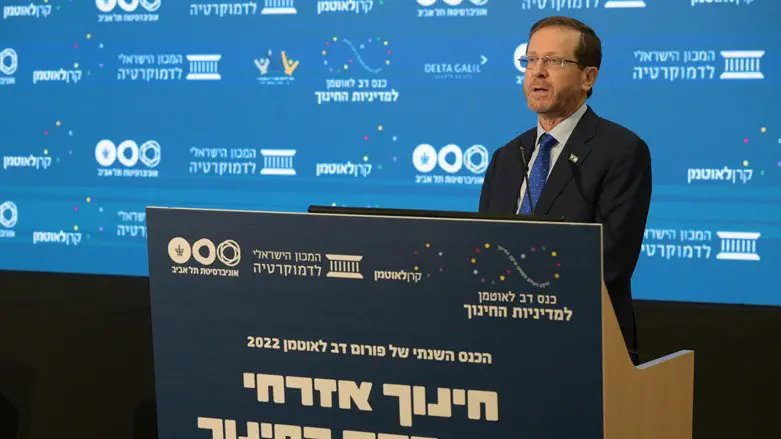 President Isaac Herzog
Amos Ben Gershom/GPO
President Isaac Herzog published a condemnation this evening (Sunday) of designated minister MK Orit Strock (Religious Zionism) who stated earlier today that a doctor has the right not to provide medical treatment which negates their beliefs, "As long as there are enough doctors that can provide the treatment."
Herzog stated: "A situation in which Israeli citizens feel threatened due to their identity or their beliefs negates the basic democratic and moral values of the state of Israel. The racist statements heard in recent days against the LGBT community and in general against different sectors and communities, deeply worry and disturb me.
'The state of Israel will uphold equal social and political rights for all of its citizens, with no difference of religion, race, and sex,' that's what is written in the Declaration of Independence, and we all must keep that at any cost and without compromise. Any action against these basic values is dangerous to our very lives and existence as a nation and a state."
Herzog emphasizes: "I oppose any statement that acts as a basis for exclusion or any phenomenon that allows discrimination. I work and will work with all my ability as President of Israel, to prevent harm to parts and populations of the public.
MK Simcha Rothman (Religious Zionism) commented recently that he would not oppose the amendment of a law forbidding businesses from discriminating on racial grounds In October 2022, a California court ruled that a bakery may refuse to bake a wedding cake for a same-sex wedding that is against the owner's Christian religious beliefs.
MK Orit Strook later extended that sentiment to include healthcare providers, saying that she believes healthcare providers should not be forced to provide treatment that conflicts with their religious beliefs, as long as there were other practitioners who could provide the same service. "We must not treat Jewish religious law as being of less value."
Prime Minister-designate Benjamin Netanyahu condemned the comments of MK Strock regarding the LGBTQ community.
"MK Orit Strock's words are unacceptable to me and my friends in Likud. The coalition agreements do not allow LGBT people to be discriminated against or for their rights to receive services the same services as any citizen in Israel to be harmed," Netanyahu said.
"The Likud will ensure that there will be no harm to LGBT people or the rights of any citizen in Israel," Netanyahu said.