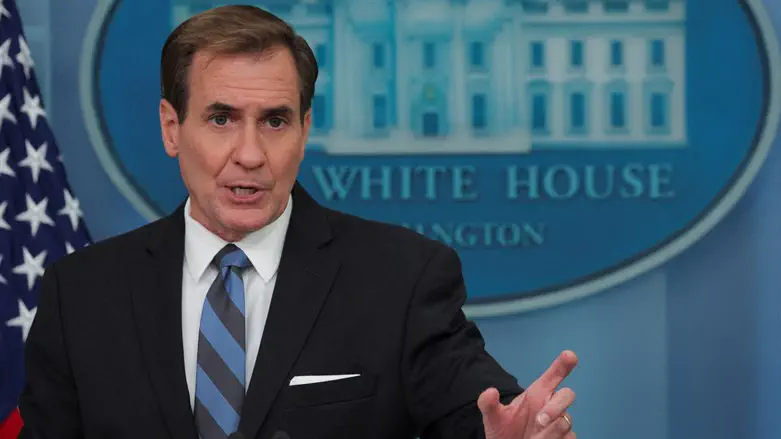 John Kirby
REUTERS/Jim Bourg
The United States on Tuesday expressed "deep concern" over progress Iran is making on its nuclear program and ballistic missile capability, after Tehran announced that it has begun enriching uranium to 60 percent at a second facility.
"We're going to make sure we have all options available to the president," White House national security spokesman John Kirby told a briefing in Washington, according to AFP.
"We certainly have not changed our view that we will not allow Iran to achieve a nuclear weapons capability," he added.
The comments came hours after Iran publicized that it had moved ahead on uranium enrichment that Western governments worry is part of a covert nuclear weapons program.
"Iran has started producing uranium enriched to 60 percent at the Fordo plant for the first time," Iran's ISNA news agency reported, a development then confirmed by Atomic Energy Organization of Iran chief Mohammad Eslami.
Earlier this week, Rafael Grossi, Director General of the International Atomic Energy Agency (IAEA), said that Iran has enough enriched uranium to have more than one nuclear bomb.
Speaking to 60 Minutes' Lesley Stahl in an interview which aired Sunday, Grossi also reiterated that there is no indication that Iran currently has a nuclear weapons program.
"At the current level of production of this enriched uranium, Iran has accumulated already enough material to have more than one device, if they chose to do that. But we don't have any information that would indicate that Iran has a nuclear weapon program at the moment," he said.
Asked by Stahl whether "we reached the point of no return with Iran? Is it time to just admit they're a nuclear power?" Grossi replied, "No, we haven't reached that point. But we need to work very hard so we don't get there."
Iran has continuously scaled back its compliance with the 2015 nuclear deal it signed with world powers, in response to former US President Donald Trump's withdrawal from the agreement in May of 2018.
The US and Iran held indirect talks aimed at returning to the deal, but those talks are now at a dead end.
Iran in September announced it had submitted its comments to the US response to the European Union's draft for reviving the 2015 Iran nuclear deal.
While Iran's Foreign Ministry spokesperson said at the time that Iran's response was prepared based on a constructive approach, a senior Biden administration official said the Iranian response "is not at all encouraging."
A US official later said that the efforts to revive the 2015 Iran nuclear deal have "hit a wall" because of Iran's insistence on the closure of the UN nuclear watchdog's investigations.
The US envoy for Iran, Robert Malley, said last week that Iran's crackdown on protesters and the sale of drones to Russia have turned the United States' focus away from reviving the nuclear deal.
Speaking to reporters in Paris, Malley insisted that the United States would leave the door open to resume diplomacy "when and if" the time came, but stated that for now Washington would continue a policy of sanctions and pressure.