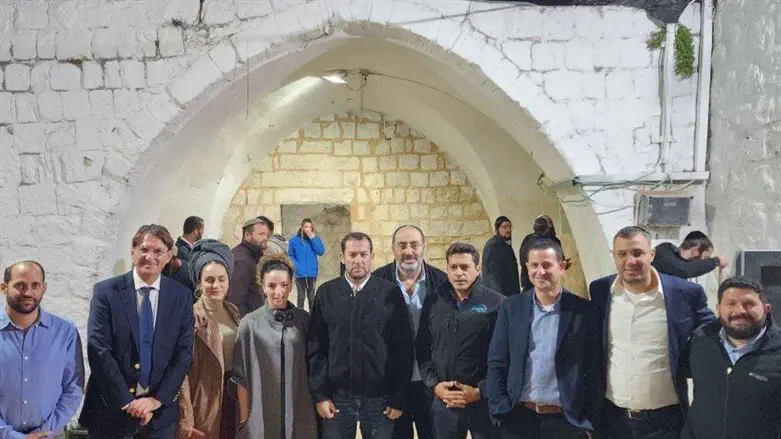 MKs at Joseph's Tomb
Spokesperson
The Palestinian Arab terrorist organization Lions' Den has claimed responsibility for opening fire on IDF soldiers who were securing a visit by eight MKs to Joseph's Tomb in Shechem (Nablus) early Wednesday morning.
The group said in a statement that the operation was carried out in "security coordination" with the "Balata Battalion" and the "Farook" group and that it "forced the enemy to prepare with large forces in view of the threat".
The statement also said that "Israel wanted to demonstrate power through the visit to Joseph's Tomb, but in practice the members of the Knesset and the military escort force entered and exited under Palestinian fire."
Mehdi Hashash, a Lions' Den terrorist, was killed in Wednesday morning's incident, when IDF soldiers opened fire at him as he intended to throw an explosive device at them.
Likud member Boaz Bismuth, who was part of th3 group visiting the tomb, said to Israel National News that the shooting demonstrates to him that the Palestinian Arabs don't understand that Jews respect holy places or the fact that Jews come to visit them.
"The fact that a Jew comes to visit the tomb of one of his biggest ancestors [and is attacked], that is something that I cannot understand. We are in 2022 now. You cannot peak on one hand that we don't respect the Oslo [Accords] but on the second hand one of the Oslo agreements is us being able to go to the Tomb of Joseph. So I don't understand that. How come in 2022 Palestinians still not only don't respect life of a Jew but they don't even respect a dead Jew like the grand Joseph."
In recent weeks, the IDF has been working intensively against the terrorist infrastructure of the Lion's Den in Shechem, eliminating a number of senior members of the group along the way.
The "Lions' Den" terrorist group is responsible for carrying out the shooting attack that killed IDF soldier Staff-Sargent Ido Baruch, as well as attempting to carry out a terrorist attack in Tel Aviv (an attack that was thwarted by the Israel Police) and the planting of an explosive device in the Kedumim gas station.
They also attempted to carry out a shooting attack in Har Bracha and hurled a grenade towards IDF soldiers who were adjacent to Havat Gilad.
The terrorist group is also in charge of multiple shooting attacks throughout the city of Shechem.