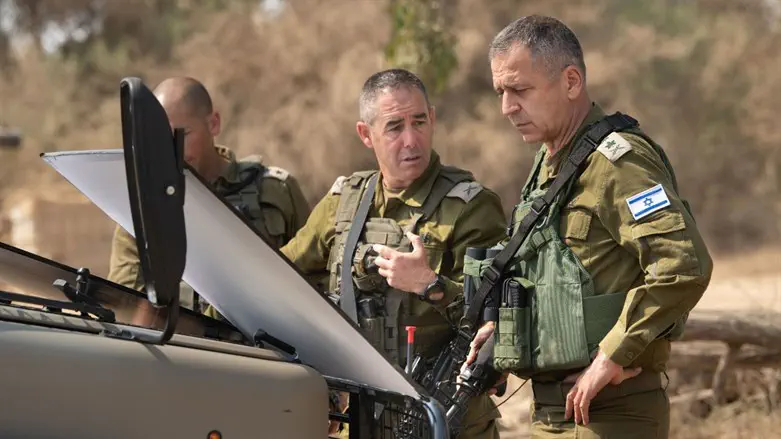 Kochavi at Gaza Division
IDF Spokesperson
IDF Chief of Staff Aviv Kochavi toured the Gaza Division Thursday morning and conducted a situational assessment with the division commander.
The Chief of Staff was shown the intelligence-operational situation alongside the activity of the combat forces in the division and the armored and artillery forces that recently arrived in the sector.
During the tour, the Chief of Staff gave instructions to increase the IDF's preparedness for escalation scenarios, strengthening defense, intelligence collective efforts and approved plans for offensive efforts should they become necessary.
Roads and other sites surrounding Gaza remained closed Thursday.
The closures were instituted Tuesday following the arrest of Basa'am Asadi, an Islamic Jihad leader in Jenin.
They will not be lifted, despite the seeming calm, due to threats from Gaza.
Meanwhile, Israel has sent a message to Hamas warning that if the tension does not end, Israel will be forced to take steps to end it, and is not afraid of a new Gaza war, Channel 12 News reported.
A military source told Israel National News - Arutz Sheva, "The steps are being taken due to attempts by Islamic Jihad terrorists to carry out a revenge attack. We know that the precautions Israel has taken prevented such a terror attack, and therefore, today as well, the high alert and closures will continue.