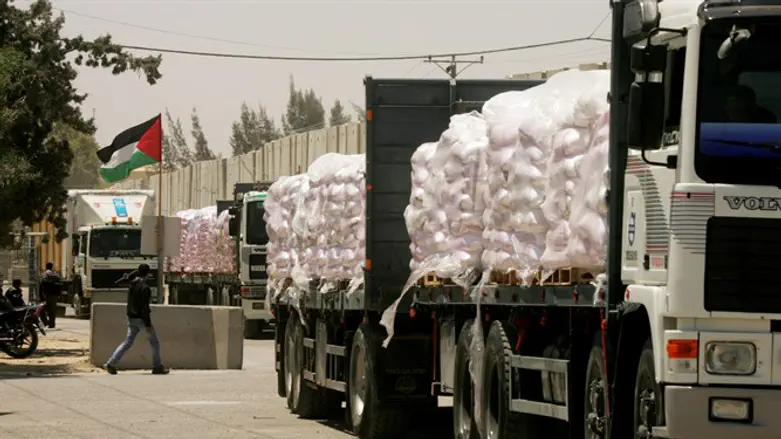 Aid trucks enter Gaza via Kerem Shalom Crossing (file)
Flash 90
Prime Minister Binyamin Netanyahu told senior cabinet ministers recently that a new initiative will soon be launched for a diplomatic solution in Gaza, Channel 10 News reported Friday.
According to the report, Netanyahu said during private conversations that the efforts are led by Egypt and the United Nations with Israel's cooperation, and have made significant progress.
The plan reportedly includes rebuilding Gaza's civilian infrastructure, a return of the Palestinian Authority to the enclave and a long-term ceasefire.
A senior diplomatic source involved in the details of the contacts on the plan told Channel 10 News that "Egypt and the UN are putting tremendous pressure on all sides. This is an unprecedented initiative, but it is too soon to say whether it will succeed, much is at stake."
A member of the political-security cabinet was quoted in the report as having said that Israel is willing to promote a civilian move in Gaza, adding that there is a chance that things will progress in the near future.
"There is a desire to make a move," the minister explained. "There is such an intention and we hope that Netanyahu will bring it to the cabinet for approval."
Another minister in the cabinet told Channel 10 News that the ball was in the court of the Palestinian Authority and Hamas regarding Gaza.
"We want to see whether [PA chairman] Abbas is ready to lift the sanctions on Gaza and resume running the Gaza Strip, and whether Hamas is willing to stop the violence," the senior minister said, adding, "As long as this does not happen, there is nothing to talk about. We want normalization in Gaza - but we do not want to come out looking like suckers."
Abbas' Fatah faction and Hamas signed a reconciliation deal last October, under which the PA was to have resumed full control of Gaza by December 1.
That deadline was initially put back by 10 days and had later reportedly hit "obstacles".
The sides have been at odds since 2007, when Hamas violently took over Gaza from Fatah in a bloody coup.
In April of 2017, Abbas announced a series of economic punitive measures against the Gaza Strip in an attempt to force Hamas to cancel the executive committee of the Gaza Strip, which acted as a sort of local government, and to soften its position on the reconciliation talks.
(Arutz Sheva's North American desk is keeping you updated until the start of Shabbat in New York. The time posted automatically on all Arutz Sheva articles, however, is Israeli time.)