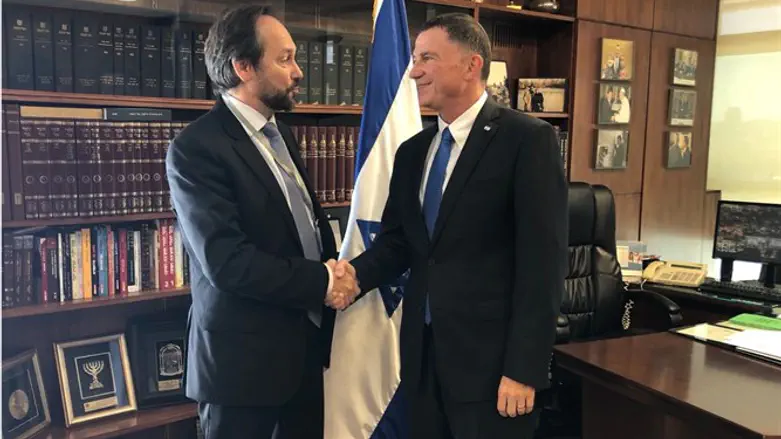 Edelstein and
spokesperson
Knesset Speaker Yuli Edelstein met Tuesday with European Union Ambassador to Israel Emanuele Giaufret Tuesday and addressed EU-funded illegal construction in Judea and Samaria.
"The EU cannot build illegal construction wherever it wants and then be surprised when Israel destroys the buildings. By the way, the demolitions are carried out according to the decision of the Supreme Court," Edelstein said.
"I also told the EU foreign minister, who complained to me about the demolition of buildings in Khan al-Ahmar: You want to invest and build? There is no problem, but it can be doneonly in coordination with Israel," said the Knesset Speaker.
Edelstein also discussed the nuclear agreement with Iran. "It is clear to everyone that Iran must not acquire nuclear weapons. You think that the agreement is good, but you forget that it does not include power over the border with Israel. We have to look at what is happening today and understand the events in the region."
The Knesset speaker slammed the anti-Israeli statements of the leaders of the European Union, saying that it "only distanced cooperation and ties. This is reflected in the over-the-top response to the transfer of the American embassy to Jerusalem."
"Europeans have important and liberal principles and values. Israel is the only country in the Middle East that shares these values. The EU can be a major player in trying to resolve the Israeli-Palestinian conflict, but it becomes irrelevant when it takes a one-sided position," Edelstein told the EU ambassador.