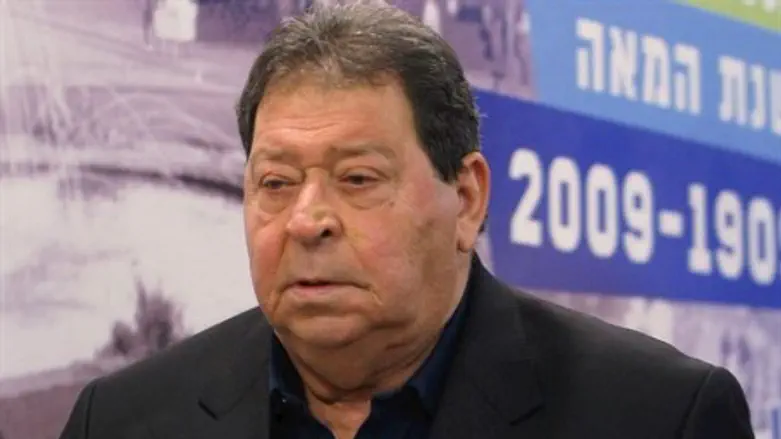 Binyamin Ben-Eliezer
Flash 90
Former MK and Minister Binyamin Ben-Eliezer was hospitalized at the Assaf Harofeh Hospital on Sunday.
Doctors suspect the former Labor party leader suffered a mild stroke.
Ben-Eliezer felt ill as he underwent dialysis treatment due to kidney disease from which he suffers. The hospital refused to give details about his condition because of medical confidentiality.
Ben-Eliezer is currently on trial on charges of corruption. He is suspected of receiving money related to his public activities from various businessmen, and then using that money to purchase real estate, among other things.
The former Labor party leader is also suspected of exchanging foreign currency worth hundreds of thousands of dollars without reporting it to the authorities while attempting to hide the process.
As well, Ben-Eliezer is suspected of providing the Knesset Speaker with false financial statements, not reporting accumulated assets, and of not reporting income to tax authorities.
Ben-Eliezer resigned from the Knesset and retired from public life as the corruption investigation continued.
The former Defense Minister has been arguing for a long time that his medical condition is precarious and as such he cannot show up to the court proceedings in his case.
The District Court in Tel Aviv is expected to convene this week to discuss Ben-Eliezer's medical condition.
In April, the Attorney General denied Ben-Eliezer's request to delay the criminal proceedings against him because of his medical condition.
"After examining the circumstances, including the seriousness of the acts attributed to Mr. Ben-Eliezer, the circumstances of their implementation and the public interest in the legal procedure, the Attorney General did not find that the medical condition ... and the reasons specified in the application justify the delay in the criminal proceedings in this case," the Attorney General's office said at the time.
Ben-Eliezer has been suffering from health issues for several years, and was hospitalized for several days in December of 2014 due to fever.
He was also hospitalized in March for a short time period.