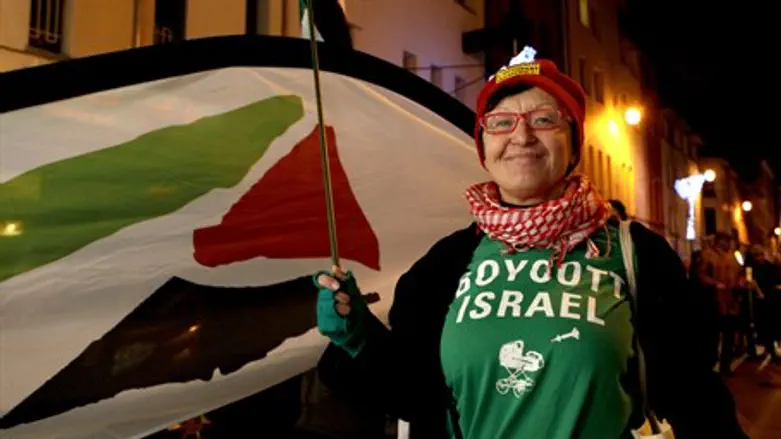 "Racists"? BDS Israel Boycotters
Reuters
Famed rock musician Phil Soussan, a bass guitarist songwriter and producer who has worked with Ozzy Osbourne, Billy Idol and other popular singers, spoke out against the BDS boycott movement targeting Israel.
On his Facebook page last Friday, Soussan compared several recent events, noting the crackdown on Donald Sterling, owner of the NBA team Los Angeles Clippers over his racist remarks that were revealed in a recording, and the recent outrage over the name of the NFL football team Washington Redskins over its perceived negative portrayal of Native Americans.
"Sterling - a racist? …shock, horror, disgust, public outcry, fines. The Washington Redskins ? …NOT in our country!" wrote Soussan.
"But, here in Los Angeles, in an attempt to target, harass and intimidate Jewish students at UCLA, Students for 'Justice' in Palestine (SJP) have just demanded that candidates for student government positions sign a statement pledging they will not go on any trip to Israel sponsored by Jewish organizations," continued the rock musician.
SJP was overruled in a decision last month, after it petitioned a vote on boycotting Israel by saying that two of the student government officers had a "conflict of interests" after having visited Israel on sponsored trips.
Soussan continued "SJP is the only university-funded student organization at UCLA whose very mission targets an ethnic minority for hatred and vilification and whose activities routinely harass, intimidate, threaten and seek to silence members of that ethnic minority on campus. Students report feeling uncomfortable even walking on campus because of the hate mail they receive. This is outrageous. Students must feel safe on campus."
The rock musician noted that SJP is trying to create a situation where only "anti-Israel activists" make the decisions for the university's student government, and where Jewish students are prevented from equal access to positions in voting.
"THIS is REAL racism," emphasized Soussan. "defending it, it is amazing how the tolerance pushing liberals in our 'civilized' school system are the first ones to endorse anti-Semitic policies reminiscent of Germany in the 1930s."
Soussan thanked his fans on Saturday for reading his comments, saying that since his page is "primarily a music page," he will be concentrating less on "debates" and more on "new upcoming musical projects."
The musician added "...oh, and the debates and blogs? ...I do continue to put my energy into them - I have just started writing a book!"