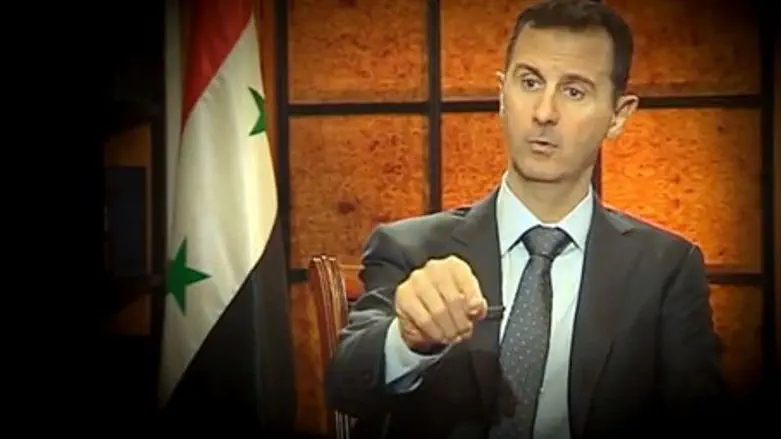 Syrian President Bashar al-Assad
AFP file
The Syrian opposition's shadow "Finance and Economics" Minister Ebrahim Miro claims that Syrian President Bashar Assad has invested at least 25 billion dollars in the ongoing and bloody conflict, Maariv reported Sunday. 
Speaking to Anadolu Agency, Miro estimated that "Assad's regime spent 7 billion dollars of Syrian Central Bank dollars reserves in 2011, 9 billion dollars in 2012, and approximately 9 billion dollars in 2013." 
Miro also predicted that Assad's forces had several more billion dollars in reserves, and predicted that economic sanctions would not stop the civil war as a result, said the agency. Miro also said that Assad's foreign aid packages supporting the war are said to be up to $50 billion, from "unknown sources". 
Production in Syria has more or less stopped, according to Miro, claiming that factories in Damascus and Aleppo have been hit hard by the ongoing fighting. Tourism has also waned, understandably, in light of the conflict. Miro uses the facts as proof that Assad is receiving foreign support to prop up his regime despite the nearly 3-year conflict, which has turned into an all-out Islamic holy war between Sunni and Shia Muslims. 
According to The World Bulletin, Miro also noted that the interim government needs 2.5 billion dollars to work properly - including the budget of the defense ministry of the interim government which recruits around 60 thousand soldiers and police officers.
Apart from financial support, the Assad regime has received significant direct military support from its regional allies, most notably Iran and its Lebanese proxy Hezbollah. Foreign Shia fighters have poured into the country from Iraq and Lebanon to supplement the badly-overstretched Syrian military. The weapons, training and funding for these pro-regime militias have come primarily from Iran.
Russia has also provided support to the Syrian government, sellingarms to Assad's forces. Russia has also been alleged to have been involved in providing Syria with chemical weapons, most of which are set to be destroyed by US forces over international waters later this year. 
Well over 100,000 people have been killed since the conflict began in 2011, according to UN estimates, including more than 11,000 children; and millions of Syrians displaced from their homes.