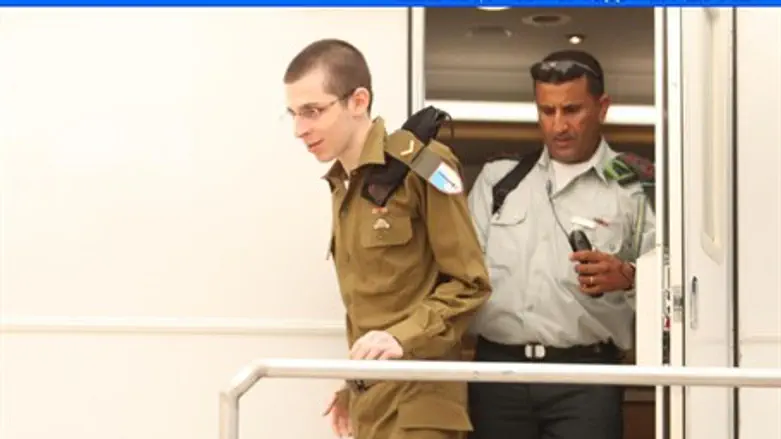 Shalit in uniform Tuesday
IDF spokesperson's unit
The Islamist group of Hamas has announced plans this week to produce a film about the kidnapping and swap of Israeli soldier Gilad Shalit, a Hamas official told the Chinese news agency Xinhau. 
According to a report from Mohammed Al-Ar'ir of the ministry of culture, the Hamas movement has allocated $100, 000 to produce the film, set to take place in the Hamas-controlled Gaza Strip. The film will be produced by Al-Wataniya, a local media company.
The movie will not focus on or reveal any new details about how Hamas held Shalit for more than five years in Gaza since his capture in 2006. Rather, it will focus on "violent resistance," which Hamas says is "the best option and only hope to free Palestinian lands and over 8,000 Palestinian prisoners still captive in the Israeli occupier's prisons."

Shalit was freed in October 2011 in exchange for more than 1,000 Palestinian Authority prisoners, one of which was recently killed in the Kalandiya riots in August when some 300 Arabs violently attacked IDF troops with firebombs. Of the three casualties, two were identified as known terrorists. 
"The film's production stems from the ministry's desire to take part in social and cultural activity, and to spread and implement the resistance culture and the spirit of sacrifice in order to strengthen national Palestinian identity in the cultural sense," the culture ministry expressed in an announcement.
According to Al-Ar'ir of the ministry of culture, "Capturing Shalit is an important event in the history of the Palestinian people and their resistance. That's why we fete it in movies."
The filming will begin in the coming days in Gaza to "boost Palestinian cinema production and because Gaza was the original time and place of the real scene," Al-Ar'ir said. 
Iran, Hamas' main financial backer until 2012, was supposed to cover the budget of the movie, but the Iranian government refused to pay the money due to Hamas refusal to support Syrian President Bashar al-Assad in repressing the ongoing rebellion in his country, Al-Ar 'ir said.