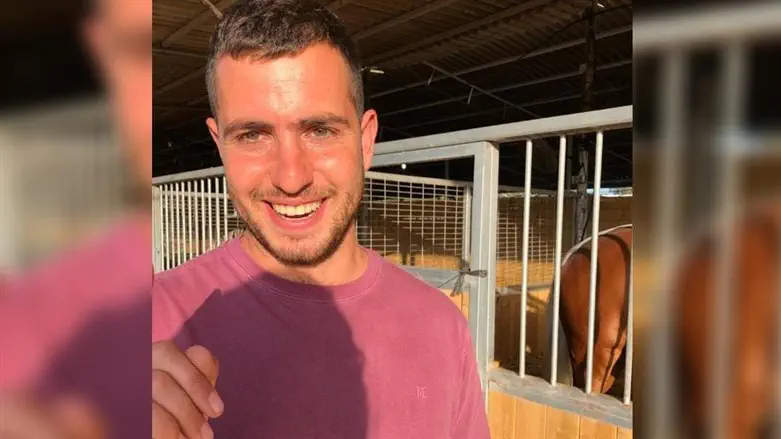 Arnon Vaspi
IDF.
Vered, mother of Captain (res.) Arnon Moshe Avraham Benvenisti Vaspi who was recently killed in action in the Gaza Strip, also lost her father in the Yom Kippur War and her brother in the First Lebanon War.
Additionally, her fallen son was named after his uncle, who killed in action in Lebanon while serving as an officer in the Givati reconnaissance unit.
In 2019, Arnon wrote a letter that was published on the IDF website, shortly before he was promoted to being an officer himself. "The truth is that my family history is a little more complicated. My family is bereaved. To be honest, we have lost over the years, not one, not two, but four members of the family in different wars in Israel.''
''My grandfather Yoav Vaspi was killed in the Yom Kippur War, and received a Medal of Courage for it. After him, my mother's brother Arnon, for whom I am named, was killed when his APC overturned in the First Lebanon War. He had only just finished training. In the same war, my cousin, Ori Maoz, was killed in an intense engagement with terrorists. When my grandmother remarried, the son of her new husband, Omri Ben-Zichri, was killed by an accidental weapon discharge.''
''When I asked my mother to sign the consent forms for me to enter combat service (her consent was necessary since I am from a bereaved family), I saw her fears coming out again, and for a moment I thought she would not consent to my enlistment. It wasn't easy for her to sign the form, but now she sees me every weekend coming back with a fire in my eyes that is only getting stronger. That fire has been with me from then until this day.
"From then on, I served in the Givati reconnaissance unit, and only ever moved upwards. I was noted for exceptional performance during training, I met new people, and finally began to improve my Hebrew, something I had not managed until then. I can say confidently that the IDF has taught me and elevated me more than any school.
"Today, I will walk down the lanes of Training Base 1 as an officer in Givati. My mother, grandmother, and Shai will come to see me and witness the insane distance I have come. I have no doubt that my father, grandfather, Uncle Arnon, Ori, and Omri will be there as well, and will be happy that I chose - despite everything - to follow in their footsteps."